®

Today's poem is "Upon the Thirthieth Anniversary of Hank Aaron Surpassing Babe Ruth as All-Time Homerun King"
from Americana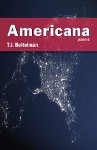 TJ Beitelman
is a writer and teacher living in Birmingham, Alabama. He's published a novel, John the Revelator, and two collections of poetry: In Order to Form a More Perfect Union and Americana, all from Black Lawrence Press. His stories and poems have appeared widely in literary magazines, and he's received fellowships from the Alabama State Council on the Arts and the Cultural Alliance of Greater Birmingham. He taught writing and literature at Virginia Tech, where he earned an M.A. in English, and at the University of Alabama, where he earned an M.F.A. in creative writing and also edited Alabama Heritage and Black Warrior Review. Since 2002, he has taught creative writing at the Alabama School of Fine Arts in Birmingham, and he's an Artist in Residence at the Gorham's Bluff Institute on Sand Mountain in northeast Alabama.
Other poems by TJ Beitelman in Verse Daily:
December 13, 2012: "The New Religion" "Alas. / Jude finds himself..."
September 25, 2010: "the inciting incident" "Scene: Arc d' Triumph. Jude Law meets Gabriel..."
Books by TJ Beitelman:

Other poems on the web by T. J. Beitelman:
"11"
"Square One"
"Matrushka"
"An Aubade for the African Queen and it's Big Bang"
T. J. Beitelman's Blog.
T. J. Beitelman on Twitter.
About Americana:
"In TJ Beitelman's poems, 'everything's a powder / keg,' where everyday occurrences explode into expressions of joy and heartache. Americana begins with an examination of American icons and institutions, then moves out in widening circles to encompass everything from Greek myth to global politics. Here you'll find strange bedfellows—Bogart and the Big Bang, Hank Aaron and Buddhism, Hezbollah and Frank O'Hara—drawn together by Beitelman's nimble mind. Full of surprising turns and observations, Americana is a wide-eyed view of the extraordinary world around us, one most of us rarely have the capacity to see."
—Mark Neely
"Beitelman's Americana is a funhouse full of mirrors that reveal the comic, the tragic, the beautiful, and the grotesque of commonalities we can't avoid: pop culture, politics, history. It is a funhouse where 'truth and memory are mute' and the connections between, say, 'Bela Lugosi and truck tires' are what guide us through spinning tunnels and illusions. And as we exit, it's difficult to say what is more real: Beitelman's mad rendering or the world that inspired it."
—Michele Battiste
Support Verse Daily
Sponsor Verse Daily!
Home Archives
Copyright © 2002-2015 Verse Daily All Rights Reserved