®

Today's poem is "Dreams"
from Particulars of Place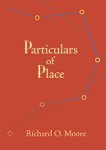 Richard O. Moore
stopped publishing early on to devote himself to a career in broadcasting, as a co-founder of the first U.S. listener-sponsored radio station, KPFA, and later as an early member of the 6th U.S. public TV station, KQED. Along the way he became an important cinéma vérité filmmaker, directing such works as Take This Hammer (1963) featuring James Baldwin; Louisiana Diary (1963), which documents the CORE voter registration drive; and the 10-part series USA: Poetry (1966), which includes the only sound footage of Frank O'Hara. His later series, The Writer in America (1975), chronicled such figures as Toni Morrison, Eudora Welty, and Muriel Rukeyser. The two films he made with Duke Ellington, Love You Madly (1967) and A Concert of Sacred Music (1967), are the subject of an essay he has contributed to a massive photo-biography of the musician by Steven Brower and Mercedes Ellington, forthcoming from Rizzoli. Moore's first book, Writing the Silences, was edited by Brenda Hillman and Paul Ebenkamp and published in 2010 by the University of California. At age 95, he continues to write and lives in Mill Valley, CA.
Books by Richard O. Moore:

Other poems on the web by Richard O. Moore:
Fifteen poems
"Utensils"
Richard O. Moore According to Wikipedia.
About Particulars of Place:
"Richard O. Moore's poetry holds firm, as Williams put it, while searching out all corners of the mind with intimacy and conviction, and without adornment or brokered sentiment. His "Blindness Sonnets" alone are as moving and searing in their even-handed concision as any sense-driven poems I've read in recent years, and the entirety of Particulars of Place across its formal change-ups, long perspectives, and wry handling of tonality makes for an emphatically real, and nonetheless nourishing, world. No other poetry I know of sings from such ground."
—Anselm Berrigan
"There is, after all, an extremity at which the fine distinctions make Heavens of crisis and human oracles of plain-speaking. It is the particular genius of Richard O. Moore, even at extremes, to distinguish between light and dark, substance and subterfuge. Here are phrases meant to be incised: Delphic, daring, and yet deeply calm."
—Donald Revell
"The Particulars of Place are immediate from Troy to Fallujah, are present from 'the farthest outposts of the spoken word' to the 'local supermercado.' But what does it mean 'to frame the gates/ of paradise'? This living, breathing book of poetry, the second from Richard O. Moore, creates a kaleidoscopic architecture of provocative contradictions, tensions of radical urgency. The poem 'Remembering Wallace Stevens' starts with an epigraph about the beginning of Desert Storm. In the last stanza, we come upon the words, 'Mind is body,' recalling Spinoza's body making up the mind. This poet's body, 'where conscience lives, rent free,' is mindful of the 'matters of fact' with stunning integrity, bearing unbearable violence, whether it be the atrocities of war or Moore's inevitable blindness. Read it to yourself, then read it aloud."
—Norma Cole
Support Verse Daily
Sponsor Verse Daily!
Home Archives
Copyright © 2002-2015 Verse Daily All Rights Reserved