®

Today's poem is "The Ghost Horse"
from To Some Women I Have Known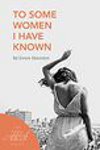 Re'Lynn Hansen
's work in essay, prose poem and short story has appeared in numerous literary publications including Hawai'i Review, Prism, Rhino, New Madrid, Water~Stone, New South, Poem Memoir Story, and online at contrary. She is the recipient of the New South Prose Prize, and the Prism International Creative Nonfiction Prize. Her chapbook, 25 Sightings of the Ivory Billed Woodpecker, was published by Firewheel Editions. Her novel, Take Me to the Underground, was nominated for a Lambda Literary award.
Books by Re'Lynn Hansen:

Re'Lynn Hansen's Website.
About To Some Women I Have Known:
"Re'Lynn Hansen's book asks not the head's question 'what is meaning?' but the heart's question 'what has meaning?' What is worthy of recalling (calling out to again), of remembering (putting back together what is fragmentary, dissolute) from our prospect halfway between what is and what could be. Looking back at her old selves, old friends, old family, and old lovers, Hansen sees them all 'as we had imagined them to be' and as citizens of a lost world. Whatever these texts are—prose poems, lyric essays, memoir—they are luminous with loss."
—Brian Clements
"Re'Lynn Hansen's To Some Women I Have Known is deliriously immersive, but the real beauty of this work is in the juxtaposition. What yokes the memory of a friend's dying mother, a kidnapped heiress, a syphilis-stricken aunt, the ivory-billed woodpecker, and a woman in a yellow steakhouse shirt? Birds, women, horses, and pears float interdependent in the persistent spume of this gorgeous book."
—Barrie Jean Borich
"To Some Women I Have Known is poetic and essayistic, offering edges—of moments—and of genre. These pieces are lists and litanies, research and recitation, incantations and illusions, and they're all exquisite. Here is a collection about our yearning to look back at what and who has been lost by looking at the moments of such losing. Hansen finds her reflection in the snow, in her grandmother's eyes, in the sand, in the windows above the bar, and in the photographer's flash—as a way to trouble her own memory. There's a wistful distance to every line, a fade. The writing in this collection is lyrical and composed, controlled even, and I know I'll come back to it again and again."
—Jill Talbot
Support Verse Daily
Sponsor Verse Daily!
Home Archives
Copyright © 2002-2015 Verse Daily All Rights Reserved