®

Today's poem is "Vernal"
from Paradise Drive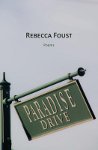 Rebecca Foust
won the 2015 Press 53 Award for Poetry for Paradise Drive. Her other books include God, Seed: Poetry & Art About the Natural World (Tebot Bach, 2010), a collaboration with artist Lorna Stevens that received a 2010 Foreword Book of the Year Award; All That Gorgeous Pitiless Song (Many Mountains Moving, 2010), which received the 2008 MMM Press Poetry Book Prize; and two chapbooks, Mom's Canoe (Texas Review Press, 2009) and Dark Card (Texas Review Press, 2008), both winners of the Robert Phillips Poetry Chapbook prize. Foust earned an MFA from Warren Wilson College in 2010 and is the recipient of fellowships from The Frost Place and The MacDowell Colony. Her poems have appeared widely in journals including The Hudson Review, The Massachusetts Review, Narrative, North American Review, and Sewanee Review, and her prose is in American Book Review, Chautauqua, Poetry Flash, The Rumpus, Tikkun Daily, and other journals. Her essay, "Venn Diagram," won the Constance Rooke Creative Nonfiction Prize from The Malahat Review in 2014. Foust lives and works in the San Francisco Bay Area as a writer, freelance editor, teacher, and Marin Poetry Center board member.
Other poems by Rebecca Foust in Verse Daily:
August 19, 2012: "Stork" "Vows broken like bird bones. You spanned abyss intention..."
October 28, 2010: "Perennial" "When you've gone, it won't matter to the musk rose..."
October 12, 2010: "What You Work For" "Heft and hank of rope, halyard..."
September 12, 2010: "Teleology" "In the seed lies all that it can ever be..."
Books by Rebecca Foust:

Other poems on the web by Rebecca Foust:
"From Function, Form"
"Petal"
Two poems
"On the Wagon"
Ten poems
Three poems
Three poems
"Don't"
"Bee Fugue"
Two poems
"Lust Redeems Her Car from the Parking Valet"
"American Dream"
Three poems
Rebecca Foust's Website.
Rebecca Foust on Twitter.
About Paradise Drive:
"There is great music in these poems, and sonnet after sonnet is masterful. Not since Berryman's Henry have I been so engaged by a persona: Pilgrim, who 'like most of we' is good and bad, hapless sometimes, other times approaching wisdom, always sending deeper and deeper her primary roots."
—Thomas Lux
"In Rebecca Foust's splendid book-length sonnet sequence, Paradise Drive, we come upon a Pilgrim contemplating the deadly sins while hiding out in the bathrooms at some of Marin County, California's swankiest parties. As the Pilgrim swaggers into an idiosyncratic, believable, frail spirituality, her unmediated, un-medicated new life emerges. The sonnets of this new life are jagged, fresh, and formed in only the way a stunningly skilled poet can craft them. Foust drives her Keatsian sensibility straight into the 21st Century of terrorism and autism, divorce and yoga, soldiers and syringes, booze and valet parking, determined to prove that truth makes beauty. Not only is Paradise Drive a magnificent achievement, it's a deep comfort as well."
—Molly Peacock
"In Paradise Drive, a sequence of loose sonnets—mostly eschewing end-rhyme for a musical internal rhyme, and varying their line lengths to better construct a singular contemporary voice—Rebecca Foust does it: she reinvents the sonnet form, making it a unit of expression again, not a museum piece sitting on its plinth, forlornly wishing we'd quit paying homage to it. She relies on the arc of the sequence to move her central character, Pilgrim from a numb captivity in a stultifying environment to a widening understanding of suffering and compassion, and thus a point-of-balance vis-a-vis the world; but she strews the individual poems with savagely sparkling jewels of satire, insight, and wit. This is a masterful book, yes, and also a great deal of fun to read."
—James Cummins
Support Verse Daily
Sponsor Verse Daily!
Home Archives
Copyright © 2002-2015 Verse Daily All Rights Reserved