®

Today's poem is "A Judge Orders The Opening of Federico García Lorca's Grave"
from Beautiful Wall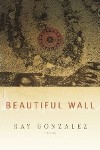 Ray Gonzalez
is the author of fifteen books of poetry, including six from BOA Editions: The Heat of Arrivals (1997 PEN/Oakland Josephine Miles Book Award), Cabato Sentora (2000 Minnesota Book Award Finalist), The Hawk Temple at Tierra Grande (2003 Minnesota Book Award for Poetry), Consideration of the Guitar: New and Selected Poems (2005), Cool Auditor: Prose Poems (2009), and Beautiful Wall (2015). The University of Arizona Press has published eight of his books, including Turtle Pictures (Arizona, 2000), a mixed-genre text, which received the 2001 Minnesota Book Award for Poetry. His poetry has appeared in multiple editions of The Best American Poetry (Scribners) and The Pushcart Prize: Best of the Small Presses 2000 (Pushcart Press). Gonzalez is also the author of three collections of essays and two collections of short stories, and the editor of twelve anthologies, most recently Sudden Fiction Latino: Short Short Stories from the U.S. and Latin America (W.W. Norton). He has served as Poetry Editor for The Bloomsbury Review for thirty-five years and, in 1998, founded the poetry journal LUNA, which received a Fund for Poetry grant for Excellence in Publishing. He was awarded a 2002 Lifetime Achievement Award from the Southwest Border Regional Library Association, and is currently a professor in the MFA Creative Writing Program at The University of Minnesota in Minneapolis.
Other poems by Ray Gonzalez in Verse Daily:
January 7, 2010: "Paul Celan's Ashes" "Here is the hand in its shade of absolute..."
December 22, 2009: "Beginning with Two Lines from Kenneth Rexroth" "I see the unwritten books, the unrecorded experiments, the unpainted..."
Books by Ray Gonzalez:

Other poems on the web by Ray Gonzalez:
Eight poems
Four poems
Two poems
Two poems
Two poems
Three poems
Five poems
"Axis"
Two poems
About Beautiful Wall:
"Ray Gonzalez is a visionary poet in the classic sense, which means that he creates an entire universe of meaning and emotion in this collection of poems. Rich with an embrace of his Mexican heritage, Gonzalez is representative of the new voice of American poetry, the voice of immigrants and their descendants, and in the hands of someone as accomplished as Gonzalez, two things happen at once: poetry is brought down to the gritty level of real experiences, and real experience is raised up into poetry through the poet's keen attention to craft. This is a major accomplishment, and these are poems worthy of our faith and our close attention."
—Bruce Weigl
"Ray Gonzalez has given us again a book of humanity and compassion. It is a pleasure to have him lead us from the Rio Grande to Montana, from Colorado to his hometown of El Paso, Texas, and all across the West in search of both the menacing and the luminous. And what a joy to travel, too, alongside Gonzalez's beloved poets brought to life here—Lorca, Celan, Levis, Vallejo, Kerouac, Bly, Neruda—and especially Weldon Kees, who fills the heart of this wonderful book in the sequence, 'Crossing New Mexico with Weldon Kees' in such a way that Kees becomes the Virgil to Gonzalez's Dante as they cut through the vast Southwest with its 'tangled forms of faith and death.' This is a book that affirms poetry as the art of a vast nation. Gonzalez celebrates and laments. He blesses and curses and brings both moral outrage and tender empathy to his subjects of lived lives and dying lives."
—David Biespiel
"The gods in Ray Gonzalez's Beautiful Wall—Xochipilli, Garcia Lorca, Huehuecoyotl, the mountain lion, and many others—help him guide us as we pass through walls that attempt to divide cultures, dimensions, even life and death. The spiritual journey he undertakes with us, for which he invents a new language as a golden bough, is not based on literary artifice. It comes from a place so deep that Gonzalez brings us with him, both in sorrow and in ecstasy, to an entirely unique vision of this world and all the others that hide behind it."
—Lawrence R. Smith
Support Verse Daily
Sponsor Verse Daily!
Home Archives
Copyright © 2002-2015 Verse Daily All Rights Reserved