®

Today's poem is "Baseball"
from Message From The Memoirist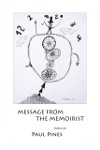 Paul Pines
grew up in Brooklyn around the corner from Ebbet's Field and passed the early 60s on the Lower East Side of New York. He shipped out as a Merchant Seaman, spending part of 65/66 in Vietnam, after which he drove a cab until opening his Bowery jazz club The Tin Palace, the setting for his novel, The Tin Angel (Morrow, 1983). Redemption (Editions du Rocher, 1997), a second novel, is set against the genocide of Guatemalan Mayans. My Brother's Madness (Curbstone Press, 2007), a memoir, explores the unfolding of intertwined lives. He has published eleven books of poetry: Onion, Hotel Madden Poems, Pines Songs, Breath, Adrift on Blinding Light, Taxidancing, Last Call at the Tin Palace, Reflections in a Smoking Mirror, Divine Madness, New Orleans Variations & Paris Ouroboros and Fishing On The Pole Star. Poems set by composer Daniel Asia appear on the Summit label, and opposite Israeli poet Yehuda Amichai, in his 5th Symphony recorded by the Pilsen Symphony. Pines is the editor of theJuan Gelman's selected poems translated by Hardie St. Martin, Dark Times/ Filled with Light (Open Letters Press, 2012). He lives with his wife, Carol, in Glens Falls, NY, where he practices as a psychotherapist and hosts the Lake George Jazz Weekend.
Other poems by Paul Pines in Verse Daily:
September 7, 2014: "Ear to the Wake" "we unweave what..."
January 18, 2013: "20" "Did Audubon..."
Books by Paul Pines:

Other poems on the web by Paul Pines:
"Echo"
"The Tin Palace Troll"
"Implicate Order"
Two poems
from Divine Madness
Paul Pines's Website.
About Message From The Memoirist:
"Some thoughts on MESSAGE FROM THE MEMOIRIST: It is rare to find a poet so attuned to silence, that time—and space—between words, which for Paul Pines is 'the abyss / of mind-before-thought.' His practice is to listen for patterns in the silence, which turn to whispers and then into these wise poems."
—Michael Coffey
"If the origin of consciousness is a wound, would it not be logical that someone looking back might observe that life has been mostly sadness with moments of joy? What to do with such a conclusion? Perhaps there'd be time to lighten the darkness by forging the 'ability to contain the tears in things.' Paul Pines does just this in MESSAGE FROM THE MEMOIRIST. The 'Memoirist' as defined by Pines 'understands that Memory is not a bin where pieces are stored and retrieved but a field in which the Soul's narrative continues to unfold.' Poems—such as the ones in this book—are resonant effects of a Soul's unfolding."
—Eileen Tabios
"In this remarkable new collection, Paul Pines continues to map the profound confusions and marvels of modern existence. From the quantum to the cosmological, nothing is beyond Pines' incisive gaze. Whether contemplating the quotidian or the miraculous, Pines' lines are at once lyrical and precise. Accompanied by the masterful pen-and-ink and collage-work of artist Marc Shanker, MESSAGE FROM THE MEMOIRIST is a delight for the mind, ear, and eye."
—Eric Hoffman
Support Verse Daily
Sponsor Verse Daily!
Home Archives
Copyright © 2002-2015 Verse Daily All Rights Reserved