®

Today's poem is "On the Island where I come from"
from Why God Is a Woman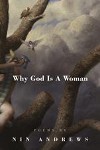 Nin Andrews
' poems and stories have appeared in many literary journals and anthologies including Ploughshares, The Paris Review, Best American Poetry (1997, 2001, 2003, 2013), The KGB Bar Book of Poems, No Boundaries, Sudden Stories, A Mammoth Anthology of Miniscule Fiction, The House of Your Dreams: an International Collection of Prose Poems, Great American Prose Poems, and the forthcoming anthology Nothing to Declare: A Guide to the Flash Sequence. The recipient of an individual artist grant from the Ohio Arts Council in 1997 and again in 2003, she is the author of six chapbooks and five full-length poetry collections. She is the mother two grown children, and she lives in Poland, Ohio, with her husband, a physics professor and bass player, and her two Boston terriers, Sadie and Froda.
Other poems by Nin Andrews in Verse Daily:
January 22, 2008: "The Woman Who Is Early" "The Woman Who Is Early is always at least one step ahead of..."
July 21, 2002: "That Cold Summer" "At first the angel was perfectly wingless..."
Books by Nin Andrews:

Other poems on the web by Nin Andrews:
Three poems
Three poems
"The Fire"
Five poems
Three poems
four poems
"Adolescence"
"Cleanliness is next to godliness"
"The Dream of the Pussy"
"The Delicate Moment"
Nin Andrews's Website.
Nin Andrews on Twitter.
About Why God Is a Woman:
"Nin Andrews' Why God Is a Woman explores a female utopia in which Friedan's 'feminine mystique' would never have had to be contemplated. But on this island in which multiple orgasms, childbirth, and multitasking are prized and rewarded, what will happen to the men who 'are designed for domesticity,' spending countless hours 'preening in front of the bathroom mirror' dreaming of their wedding day, only to be stalked and harassed with predatory women trying 'to get into (their) trousers?' A revolutionary, Andrews writes a social satire that is magical, compassionate, and full of flight--with men and boys being judged by their 'wingspan.' Will God show true compassion? Andrews' Why God Is a Woman is a tour de force by one of America's leading poets."
—Denise Duhamel
"On the island in Why God Is a Woman not only does every woman look like Angelina Jolie, but they take her name as their own. Men are winged objects of beauty, and those with the widest span are the most sought after. This is a place--and a story--populated by personages like Dolly Delita, world-famous man-trainer, and Julio Vega, the beauty king who was also the first man to run for president. The rules of our world have been inverted within the mirror Nin Andrews holds up for us, and never have we looked more strange and fabulous."
—Christopher Barzak
"On the island where I grew up--Virginia in the 1960s--mothers told their daughters, 'it's a man's world.' Nin Andrews stands that world on its head, throwing its absurdities into sharp and witty relief. But her poems are for men as well as women, inviting us all to re-imagine love, desire, death, and visions of paradise."
—Anne-Marie Slaughter
Support Verse Daily
Sponsor Verse Daily!
Home Archives
Copyright © 2002-2015 Verse Daily All Rights Reserved