®

Today's poem is "Aubade"
from Last Psalm at Sea Level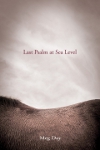 Meg Day
, selected for Best New Poets of 2013, is a 2013 recipient of an NEA Fellowship in Poetry and the author of Last Psalm at Sea Level (winner of the Barrow Street Press Poetry Prize), When All You Have Is a Hammer (winner of the 2012 Gertrude Press Chapbook Contest) and We Can't Read This (winner of the 2013 Gazing Grain Chapbook Contest). A 2012 AWP Intro Journals Award Winner, she has also received awards and fellowships from the Lambda Literary Foundation, Hedgebrook, Squaw Valley Writers, the Taft-Nicholson Center for Environmental Humanities, and the International Queer Arts Festival. Meg is currently a PhD candidate, Steffensen-Cannon Fellow, & Point Foundation Scholar in Poetry & Disability Poetics at the University of Utah.
Books by Meg Day:

Other poems on the web by Meg Day:
"Aubade for One Still Uncertain of Being Born"
"What I Will Tell His Daughter, When She's Old Enough to Ask"
"we know that we are"
"To Cancer, If That Is Your Real Name"
"on what I didn't hear you say"
"Aubade for an Accomplice"
Meg Day's Website.
Meg Day on Twitter.
About Last Psalm at Sea Level:
"Lovely does not suffice, nor does lyric. Eloquence is only a grasping in the space of ineffable air. There are few words or phrases that do justice to the soul singing its own revelations. That place is where Last Psalm at Sea Level lives, where it is as solid as gold burning itself into light."
—Afaa Michael Weaver
"The vivid impermanence of the body is like kindling catching, a source of fire for Meg Day, a poet whose fearless heart is tethered to the world. This is a commanding book and a portent for the vitality of poetry."
—D.A. Powell
"The ravishing poems in Last Psalm as Sea Level reveal a world that is itself always more than one thing at a time, in which joy and possibility inhabit precisely the same flesh as trouble and grief. The result is a collection whose perpetual and dazzling transformations are rooted in the world as it is, poems full of mirage and surprise, brash and dizzy with their own discoveries and inventions."
—Katharine Coles
"Meg Day writes: 'At five, I pressed my lips to the grate of my grandmother's/ Crosley, let broadcasts buzz into the pipe of my jawbone/ & learned to listen with my tongue.' And this deep listening is, indeed, what she accomplishes throughout these poems. Meg Day grapples with serious themes — illness, violence, suicide, grief — with admirable skill and approaches issues of sexual orientation, identity, and gender with a true poet's passion, as in her tour de force, 'Batter My Heart, Transgender'd God': 'Terror, do not depart/ but nest in the hollows of my loins... My knees, bring me to them; force my head to bow again. Replay the murders of my kin until my mind's made new.' This is muscular language, worthy of its inspiration."
—Ellen Bass
Support Verse Daily
Sponsor Verse Daily!
Home Archives
Copyright © 2002-2015 Verse Daily All Rights Reserved