®

Today's poem is "Tide Pool"
from My Body Tells Its Own Story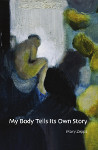 Mary Zeppa
's poems have appeared in a variety of print and online journals, including Perihelion, Switched-on Gutenberg, Zone 3, New York Quarterly, and Permafrost, and in several anthologies, most recently Beyond Forgetting: Poetry and Prose about Alzheimer's Disease (Kent State University Press, 2009). Zeppa is the author of two chapbooks, Little Ship of Blessing (Poets Corner Press) and The Battered Bride Overture (Rattlesnake Press). Zeppa, a founding editor of the Tule Review, is also a literary journalist; her interview "Charles Wright on Eugenio Montale and Dino Campana" (Poet News, 1985) appears in the 2008 McFarland collection Charles Wright in Conversation. She served as executive editor of Keepers of the Flame: The First Thirty Years of the Sacramento Poetry Center (Rattlesnake Press, 2009) and currently cohosts the Center's Third Thursdays at the Central Library series. Zeppa is a three-time Resident Fellow at the Virginia Center for the Creative Arts and a 20-year veteran of the a cappella quintet Cherry Fizz.
Books by Mary Zeppa:

Mary Zeppa's Website.
About My Body Tells Its Own Story:
"The common thread through the eclectic poems in this stunning collection remains the body, its hungers and desires, aversions and obsessions, joyous epiphanies and agonizing deprivations. About the presumed mind/body dichotomy, Mary Zeppa writes: 'The brain leaves its Gordian/knot on the pillow. The body/laughs all the way home.' Zeppa locates her poetry at the intersection of the intellect and the flesh, a nexus she explores with the precision of a surgeon and the passion of a lover."
—Carol Frith
"The poems in My Body Tells Its Own Story test the boundaries between mind and body, flesh and spirit; they explore how family stories can be encoded in our bodies. 'I leave the echoes,' Zeppa says, 'that crowd around / my bones: sonatas, waltzes, lowdown / blues and small tunes with no names.' And so she does, in poem after poem of this marvelous collection, so full of lyric intensity, so full of passion for all the little details of a life in which the terrifying and the ravishingly beautiful inextricably intertwine."
—Susan Kelly-DeWitt
"Mary Zeppa stitches together the lost world, rustling just beyond like a shadow, and the sensuous world at our fingertips. These poems render a crafted yet passionate sensibility, which burns with its own rhythm and pace but never consumes itself. With unflinching eye and ear, Zeppa transforms the beautiful and the violent, the joyful and the grief-stricken. She moves forward and remembers, divines love and speaks with the dead, reaches for a fleeting kiss and proffers the grace of song."
—William O'Daly
Support Verse Daily
Sponsor Verse Daily!
Home Archives
Copyright © 2002-2015 Verse Daily All Rights Reserved