®

Today's poem is "Nobody Knows"
from Antidote for Night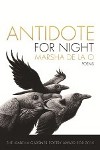 Marsha de la O
's Black Hope won the New Issues Poetry Prize from the University of Western Michigan and an Editor's Choice Award. Her work appears widely in such journals as Barrow Street, Passages North, Solo, and Third Coast, and has been anthologized in Intimate Nature: The Bond Between Women and Animals (Ballantine); Saying What Needs to Be Said (Solo Press); Bear Flag Republic: Prose Poems and Poetics from California (Greenhouse Review Press); the poetry workshop handbook One for the Money: The Sentence as Poetic Form (Lynx House Press); and Wide Awake: Poets of Los Angeles and Beyond (Pacific Coast Poetry Series). She is the recipient of the 2014 Morton Marcus Memorial Poetry Prize, the dA Poetry Prize, the Ventura Poetry Prize, two cultural arts grants from the City of Ventura, and a Tumblewords Poetry Residency. With her husband, poet Phil Taggart, she publishes the poetry journal Askew.
Books by Marsha de la O:

Other poems on the web by Marsha de la O:
"Black Hope"
"Star Quality"
Three poems
About Antidote for Night:
"The poetry of Marsha de la O continually alternates between two frequencies—the quotidian and the strange. And, like Transtromer or Bishop, she is a fearless investigator of those liminal states where everyday reality turns to terror—or to transcendence. It takes a craftsperson of extraordinary gifts to undertake such sojourns, yet Marsha de la O has all the skills and all the character to complete the tasks she has set for herself. Her poems are bracing, frightening, and—I would go as far as to say—prophetic. Antidote for Night is, quite simply, a remarkable accomplishment."
—David Wojahn
"I've loved the poems of Marsha de la O for many years, yet her newest collection, Antidote for Night, arrives like a revelation. These psalms of California past and present reflect a profound wisdom, one earned quietly and slowly, in the midst of the somber tides of those lives she celebrates. Don't miss these powerful and visceral meditations for the dark."
—David St. John
"For the power, mystery, intelligence, and ravishing beauty of her language, Marsha de la O has long been one of my favorite poets of the region. And with Antidote for Night, she is fully deserving of a national reputation and a readership as wide and broad as poets might be allowed in our particular age. "
—Suzanne Lummis
"If I didn't know Marsha de la O was a former schoolteacher, I'd swear she was equal parts deep sea diver, alchemist, and sage. In her newest book, Antidote for Night, she dives fearlessly into the darkest waters and brings back the extraordinary, both delightful and painful, where we enounter 'unhinged saints' and 'trumpet players,' 'ragpickers' and 'neighbor girls' in a territory as familiar as de la O's beloved Southern California, and as unexplored as 'a river tumbling like raw silk through a gorge' or the 'slippery pottage of my heart.' A pregnant possum, the unforgettable ride down a highway, another woman vacuuming—take on dimensions you couldn't imagine before but know so true. Trust de la OHs voice, as she welcomes the darkness that breathes and riffs through this luminous life. "
—Amy Uyematsu
Support Verse Daily
Sponsor Verse Daily!
Home Archives
Copyright © 2002-2015 Verse Daily All Rights Reserved