®

Today's poem is "BlackBerry Buzzing"
from Eye to Eye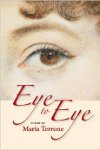 Maria Terrone
is the author of A Secret Room in Fall (McGovern Award, Ashland Poetry Press), The Bodies We Were Loaned (The Word Works), the chapbook American Gothic, Take 2 (Finishing Line Press), and now, Eye to Eye. Her poetry, which has been published in French and Farsi and nominated four times for a Pushcart Award, has appeared in magazines such as Poetry, Ploughshares, Hudson Review, Poetry International, and Crab Orchard Review and in more than 20 anthologies. She is the recipient of the Mathiasen Award; Elinor Benedict Prize in Poetry; Allen Tate Memorial Award; and Willow Review Award in Poetry
Other poems by Maria Terrone in Verse Daily:
July 26, 2002: "After You've Saved the Bird" "So here we are, long married, always empty-nested..."
Books by Maria Terrone:

Other poems on the web by Maria Terrone:
"Ghost Frescoes"
Two poems
Three poems
"Closed For Now"
Six poems
Four poems
Maria Terrone's Website.
Maria Terrone According to Wikipedia.
About Eye to Eye:
"Poetry. Italian American Studies. Women's Studies. 'Maria Terrone's poems are simultaneously sensuous and spiritual, earthy and intellectual. Her imagination takes fire from contradiction and complexity. One small image—washing a potato or rearranging a lingerie drawer—can open up vistas of private desire or public history. Her poetry explores the contingencies of time and eternity, the mysterious interpenetration of reality and the imagination.'"
—Dana Gioia
"As alert to the edgy political nature of contemporary reality ('the names of nations changing/ as people revolt and take aim') as they are to the luminous energies of ordinary facts, or the hard truths of the body's own shocking vulnerability, or the complicated inheritance drawn from her beloved Italian ancestry, Maria Terrone's poems see 'eye to eye' with a world she can at once celebrate and grieve over, but for which she shows a deep, empathetic, richly articulate understanding. Thoughtful, grounded, even visionary at times, her language in this mature third collection is a kinetic mix of keen-eyed observation and unsentimental judgment. In one poem she sees 'gnarled hawthorn trees that lean/towards me like question marks.' As a poet she lives, like the rest of us, in a world of questions marks—but what shines through them is the fierce light of the life force itself, telling her 'it's possible for a body to float on joy.'"
—Eamon Grennan
"Maria Terrone's eyes and ears are honey, and her touch is 'near enough to lift each hair on my skin.' Through trauma and joy her nuanced and evocative poems are insistent and alive. Terrone pinpoints unforgettable moments and we can feel the shock of discovery as she enacts how 'to suspend your life for another.'"
—Annie Marie Macari
Support Verse Daily
Sponsor Verse Daily!
Home Archives
Copyright © 2002-2015 Verse Daily All Rights Reserved