®

Today's poem is "Marriage Flesh of My Flesh, Bone of My Bone"
from Decency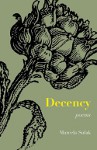 Marcela Sulak
is the author of Immigrant, released by Black Lawrence Press in 2010, and a chapbook Of All the Things That Don't Exist, I Love You Best (Finishing Line Press, 2008). She has translated four book-length collections of poetry: Orit Gidali's Twenty Girls to Envy Me: Selected Poems, from the Hebrew (forthcoming from the University of Texas Press), Karel Hynek Macha's May and Karel Jaromir Erben's Bouquet, from the Czech (Twisted Spoon Press,) and Mutombo Nkulu-N'Sengha's Bela-Wenda, from the French. With Jacqueline Kolosov, she is editing Family Resemblances: An Anthology of Hybrid Literature, forthcoming in 2015 from Rose Metal Press. Her essays have appeared in The Iowa Review, The Los Angeles Review of Books, Poet Lore and Rattle. She has lived and worked as a free-lance writer and instructor in Germany, the Czech Republic, Venezuela and Israel. She directs the Shaindy Rudoff Graduate Program in Creative Writing at Bar-Ilan University, where she is a senior lecturer in American Literature.
Other poems by Marcela Sulak in Verse Daily:
November 6, 2013: "Men on Strike" "Men on parade. Men..."
August 15, 2010: "Cabbage, a Love Song" "I dislike you, cabbage. Your tight-fisted order..."
March 7, 2010: "Last Will" "When I am ash, as is my wish..."
Books by Marcela Sulak:

Other poems on the web by Marcela Sulak:
Two poems
"Decency"
Two poems
"Marriage: Flesh Of My Flesh, Bone Of My Bone"
"The Empire Stretches Its Dough"
"Avocado"
"Jerusalem"
"Exiting Central Park"
Marcela Sulak's Website.
About Decency:
"Sulak's geopolitical borders may be porous, but her wit is a taut wire. There is delight all through this collection—Gertrude Stein's violent delightfulness. This poet strews coins, corn, meteor showers, and slender men in bright shirts. She also thinks through the most brutal things we do to each other. As lovers. As nations. As humans. Sulak's gold isn't adornment. It is Marianne Moore's 'unfalsifying sun.'"
—Joy Katz
"Marcela Sulak is that rare kind of poet who looks simultaneously outward and inward, who knows how to find the music in the details and textures of individual and collective experience. 'Understand the world is filled with people/eager to bend/things to their will,' she writes, about halfway through this musical, personal, political book. Decency is committed to understanding and recording the ways the individual operates in relation to society's mores and harms, and in relation to the hurtling freight train of history."
—Daisy Fried
"'Dear Other Woman,' Sulak writes, 'every morning now for weeks/ I've felt your fingers/ gently slide up through my throat/ as I awoke.' And indeed, in these sophisticated, elegiac, wry, graceful poems, Sulak again and again performs miracles of ventriloquism and witness. Whether she is writing about Cortez or Catherine de Medici, the poems retain a deeply personal feel. Links to the poet's own history are made with a wondrous ease, and each narrative opens out into a moment of universal resonance. As we move from the fields of Texas to the streets of Jerusalem and even to the horrors of Auschwitz, what ultimately holds this worldly collection together is a formal ingenuity, a microscopic eye, and a patient, compassionate voice that translates the world for us, 'one grain, one blade, one pigment at a time.'"
—Steven Gehrke
Support Verse Daily
Sponsor Verse Daily!
Home Archives
Copyright © 2002-2015 Verse Daily All Rights Reserved