®

Today's poem is "Saturday"
from One Hour That Morning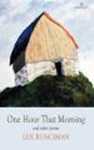 Lex Runciman
's work has been honored with an Oregon Book Award, the Kenneth O. Hanson Award, and the Silcox Prize. Over the years his work has appeared in such magazines as Ploughshares, Southern Review, Revival, Antaeus, Quarterly West, Hubbub, New England Review, Valparaiso Poetry Review, Terrain, Cloudbank, and The Gettysburg Review as well as in a number of anthologies, including the Oregon Literature Series volume From Here We Speak and Alive at the Center, 2013, from Ooligan Press. He studied with Madeline DeFrees and Richard Hugo at the University of Montana and with Dave Smith at the University of Utah. For ten years he and his wife ran the small press Arrowood Books. He works at Linfield College where he has received the Edith Green Teaching Award. He and his wife, Deborah Berry Runciman, have been married more than forty years.
Other poems by Lex Runciman in Verse Daily:
September 26, 2014: "'How can we live in this fear?'" "Clouds may drift from the west...."
April 17, 2010: "In Snow Fog" "Cedars lust for definition...."
Books by Lex Runciman:

Other poems on the web by Lex Runciman:
"Equatorial Waters"
Four poems
Three poems
"Old Light of Stars"
"Head Is All Heart Has"
"Beginning"
"Convergences"
"Jerome, Arizona"
"'Joy Cometh in the Morning'"
About One Hour That Morning:
"In One Hour That Morning we find the whole spectrum of ordinary tragedy and excruciatingly particularized joy, brought to us in a language like cold water over stones, all flourish replaced by clarity, all depiction a kind of painterly ekphrasis, a careful entrance, breath almost held, as though to preserve the momentariness that is the only possibility of perfection in this life. Lex Runciman has given us a book that is wise and beautiful and that the years will not tarnish."
—Christopher Howell
"Elegiac, compassionate, movingly wise, Lex Runciman?s new poems offer lyric proofs of a moment?s multiplicity, the multitude of givens in any given moment. Runciman?s world of haunting tropes and music is one in which 'Hope wears a sweater with deep pockets./ Despair plays a distant flute in the dark.' This splendid collection?s particulars fulfill the promise made in one poem?s title: encountering these poems, a reader will find that 'no one goes unamazed.' No one."
—Paulann Petersen
Support Verse Daily
Sponsor Verse Daily!
Home Archives
Copyright © 2002-2015 Verse Daily All Rights Reserved