®

Today's poem is "Revision"
from Our House Was on Fire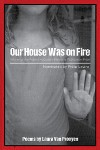 Laura Van Prooyen
is the author of an earlier collection of poems, Inkblot and Altar, and her poetry has appeared in The American Poetry Review, Ploughshares, The Southern Review, and elsewhere. She is a recipient of grants from The American Association of University Women and the Barbara Deming Memorial Fund. She lives in San Antonio, Texas.
Other poems by Laura Van Prooyen in Verse Daily:
September 15, 2007: "October" " It must be October, when the bones..."
Books by Laura Van Prooyen:

Other poems on the web by Laura Van Prooyen:
Two poems
"Location: Frances"
Two poems
"As Always, Thirty Years Between Us"
"Convert's Lament"
"Migration"
"Two Novembers"
"Solstice"
"Solstice"
Laura Van Prooyen on Twitter.
About Our House Was on Fire:
"Van Prooyen's 58 poems remind me of a long, restless insomnia—interrupted by dreamscapes, memories, fantasies, and touching portraits of an unnamed husband and their young daughters—punctuated by startling images and fascinating observations. Their house is not burning except in imagination; there are allusions to a child's serious illness and others about youthful vitality; saying no, perhaps meaning yes. These are not domestic texts, but rather a journal of mysterious variations."
—Roberto Bonazzi
"Our House Was on Fire is an arresting, beautiful, and deeply satisfying book of longing, yet longing for what can never be known. And that gives this collection its powerful complexity: what is wanted or contemplated is tempting, but impossible. True desire recognizes what one might lose and also what one must give. Much is given in this book, much of the poet's mind and honest heart. Van Prooyen's poems offer a celebration, a carefully laid out feast."
—Maurice Manning
"'I think yes. I say no,' Laura Van Prooyen declares in this book of assertions and questions where danger lives at every turn--a child threatened by disease, a love passing through uncertainty, all the what ifs and keep at it of our days on the planet. Like music, these meticulously paced poems play over and over unto dark trance their observation and grief, again and again the natural world furious and spare until all seems to stand still. 'Understand, the plot doesn't matter,' this highly lyric poet insists because her staring stops time. 'I felt bad for looking,' she tells us. 'Still, I looked.'"
—Marianne Boruch
"Yes, these are poems of mothering and daughtering. Hair is braided, groceries are gathered, leaves are raked and at least one breakfast is conspicuously perfect. But domestic? Domesticated? Not on your life. These poems are exclusively foreign, strange as physical form in the realm of the spirit, indigenous in a she-beast way. 'We've seen the falcon / ravage a bare hand, and from nowhere, the wolf / lunge to join.' For in this book, this house, in this house on fire, everyone knows where the knives are kept. Careful. These poems cut."
—Jill Alexander Essbaum
Support Verse Daily
Sponsor Verse Daily!
Home Archives
Copyright © 2002-2015 Verse Daily All Rights Reserved