®

Today's poem is "Always Throw the First Fish Back"
from We Mammals in Hospitable Times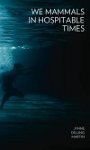 Jynne Dilling Martin
's poetry has appeared in Granta, The Boston Review, Ploughshares, Slate, and on the PBS NewsHour with Jim Lehrer. Her nonfiction has appeared in Glamour, Food & Wine, and The Antarctic Sun. She was a 2013 Antarctica Writer in Residence and lives in New York City.
Books by Jynne Dilling Martin:

Other poems on the web by Jynne Dilling Martin:
Seven poems
Three poems
"Reasons to Consider Setting Ourselves on Fire"
About We Mammals in Hospitable Times:
"Jynne Dilling Martin's imagination is omniscient and kaleidoscopic. Like Marianne Moore and Wislawa Szymborska, poets with whom she shares a certain cosmic poetical temperament, she dazzles us with catalogues of marvelously specific terrestrial wonders, endlessly thinking them into collisions and parallelism. The poems of We Mammals in Hospitable Times explore and invent the world with such wonder, affection, and ingenuity that we come away delighted."
—Tony Hoagland
"I will say this plainly: I love Jynne Dilling Martin's poems. Mordant and knowing, elegiac and merry, cosmic and cellular, her work is a reminder of how truly mysterious and miraculous our world is. She seamlessly stitches together the past and the present, the scientific and the subjective; with one line, she'll rip you apart, and with the next, she'll make you whole again."
—Curtis Sittenfeld
"The exquisitely imagined poems in We Mammals in Hospitable Times offer a unique portrait of our strange world, introducing aliens baffled by our inhospitable actions toward our planet and a scientist who 'drills a hole in the sea snail's shell / and slides a miniature stethoscope inside, listens for the heartbeat.' Martin's poems are sensitive as a stethoscope, insistent as a drilled hole, mournful but also threaded with the desire for understanding and transformation. These poems present meticulous and mysterious acts of hope and sadness. We Mammals in Hospitable Times should be read by every human on the planet, read out loud to the penguins, and launched into outer space on the next Voyager spacecraft."
—Matthea Harvey
"With a rare expansiveness that is keenly felt, heroically composed, and constantly surprising, We Mammals in Hospitable Times guides us through the sudden exultations and terrors of wide-ranging explorations. In their levities and plunges, these poems make sharp and poignant the unavoidable perils and rewards of being open to this world. What an invigorating, intelligent, and tonic testimony to the art of curiosity and the power of poetry."
—Dean Young
Support Verse Daily
Sponsor Verse Daily!
Home Archives
Copyright © 2002-2015 Verse Daily All Rights Reserved