®

Today's poem is "Twenty Weeks"
from Little Spells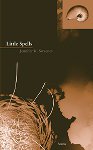 Jennifer K. Sweeney
is the author of three books of poetry, Little Spells, How to Live on Bread and Music (Perugia Press, James Laughlin Award winner), and Salt Memory. The recipient of a Pushcart Prize, her poems have appeared widely, including: The Academy of American Poets Poem-a-Day series, American Poetry Review, New American Writing, Pleiades, Southern Review, and Verse Daily. She lives in California with her husband, poet Chad Sweeney, and their sons, Liam and Forest.
Other poems by Jennifer K. Sweeney in Verse Daily:
August 25, 2014: "Seen from Above" "Steady the freight trains..."
Books by Jennifer K. Sweeney:

Other poems on the web by Jennifer K. Sweeney:
"The Embryologist"
Two poems
Three poems
"In Flight"
Two poems
Two poems
"Sea-Change"
Four poems
"Call and Response"
"How to Grow a Mushroom"
"How To Make Armor"
"In Flight"
Jennifer K. Sweeney According to Wikipedia.
About Little Spells:
"I am not normally moved by perfection, since I like a little mess in poetry, but when a book achieves the trifecta of truly beautiful balance—precise observation, uncannily accurate words, wildness and depth of heart—it must as close to perfect as our weird and glorious art can get. Sweeney understands how the profound and the miniscule are interconstitutive qualities of souls and objects in a universe ('Dwarf star with one eye on the moon') and this exploration is inner as well as visible, external. Throughout the book, the speaker is concerned with the continuum of life: from stones and plants and planets, to finches and fire, on to witches and princesses and she honors each form it takes. But at some point, this study of life gives way to the song of one who is heartbroken on the path to creating life. This voice sings and cries in such exquisite expression of anguish that art and life find themselves gazing at each other in shock. What good is perfection when the most precious and longed-for star—the one that guided the years— vanishes from the huge dark sky? Art remains and perhaps it comforts as it triumphs here. Sweeney is dazzling—if that matters. I think it does. I am abnormally moved by the perfection of this art. I am crushed by it."
—Brenda Shaughnessy
"Perhaps the physical and metaphysical are most perfectly one in a woman's desire to have a child. Jennifer K. Sweeney's Little Spells makes a stunningly powerful lyric journey into the realm of this desire in poems that engage language, image, myth, medicine, fairy tale and potion as tickets to the depths. She is a poet wooed by the abstraction of transformation and she finds for it a local habitation in the figure of the egg: chicken, ostrich, loon, rotten and that most remarkable totem of all, the human egg as the source of us all. At the level of image, line and vision, this book resounds with 'the terrible artistry of so fierce a care.'"
—Alison Hawthorne Deming
"Jennifer K. Sweeney's Little Spells carries us into one of the most primal of human experiences, the longing for a child. Through an abundance of strange and resonant images, we are taken into the paired states of desire and disappointment, bounty and emptiness, loss and return. Drawing on myths and fairy tales, stories of ancient remedies and witch's brews, Sweeney joins the personal with the archetypal, shaping heartfelt, vivid poems. She shows us how even almost unbearable loss carries within it new life, as in these lines: 'as did my dear friend when her boy was born still, / secretly pumping milk through the spring / so that dailyshe poured a blue cup / over her garden until the blooms ached through.'"
—Ellen Bass
Support Verse Daily
Sponsor Verse Daily!
Home Archives
Copyright © 2002-2015 Verse Daily All Rights Reserved