®

Today's poem is "Wal★Mart Supercenter"
from Copia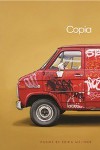 Erika Meitner
's first collection of poetry, Inventory at the All-night Drugstore, won the 2002 Anhinga-Robert Dana Prize from Anhinga Press. Her second collection, Ideal Cities, won the 2009 National Poetry Series and was published by Harper Collins (2010). A graduate of Dartmouth College and the MFA program at the University of Virginia, she was a Henry Hoyns Fellow, and also earned an MA in Religion as a Morgenstern Fellow in Jewish Studies. Meitner is currently an associate professor of English in the MFA program at Virginia Tech.
Other poems by Erika Meitner in Verse Daily:
August 19, 2014: "Swift Trucks" "This place has views..."
March 2, 2011: "Instructions for Vigilant Girls" "Be the sleeping sister who sees no one...."
October 4, 2010: "To Whom It May Concern:" "Please excuse me from the meeting...."
September 22, 2010: "May the World to Come Be Neon, Be Water" "because my shoes are too tight...."
October 2, 2007: "The Bar Code of Love" " I brandished the wand & pushed..."
February 11, 2004: "Fathom" "A large man holding his arms..."
Books by Erika Meitner:

Other poems on the web by Erika Meitner:
"Retail Space Available"
"Continuation"
Two poems
"Double Sonnet Ending in New Testament"
"WalMart Supercenter"
Two poems
"Elegy with Construction Sounds, Water, Fish"
"Factography 3: First Love"
Two poems
"Factography 4: Homeland"
Four poems
"Big Box Encounter"
Two poems
Two poems
Six poems
"Not a Poem About Driving at Night"
"Vinyl-Sided Epiphany"
Erika Meitner's Website.
Erika Meitner According to Wikipedia.
Erika Meitner on Twitter.
About Copia:
"The poems in Copia are about what is and what is almost-gone, what is in limbo and what won't give way, what is almost at rock bottom but still and always brimming with the possibility of miracles. Meitner writes of the signs and wonders of our American age. She writes as a hostage whose blindfold is removed. She looks and looks and writes what she sees in lines full of danger and full of love. 'Somewhere a boy has a pistol / blazing a hole in his pocket / the size of the moon.' She writes of the place, the displaced, the misplaced, the replaced, the excavated, the eradicated, the remembered and always, always, the seen. Meitner's poems—both ode and elegy at once—describe a world that is both strange and familiar in which she is 'not a stranger anywhere.' She writes, 'Because though this / world is changing, we will remain the / same: abundant and impossible to fill.' I loved this book. It was a heart-breaking pleasure to read."
—Rachel Zucker
"Copia is a lovely book of anaphora and refrain, repetitions meant to awaken us to the world of plenty we keep missing even as they fly past us. But Erika Meitner's loud land of object is one she cultivates so that each poem can incite an open-mouthed, awe-inspired silence: 'He put his finger to my lips and I / became the wreckage so we could find our way back.' Every pattern made here comes with its requisite and well-timed variation—and when it comes to form, 'vaiation' is another word for 'surprise.'"
—Jericho Brown
"Reading Erika Meitner's stunning fourth collection, Copia, reminds me of all the things that make poetry necessary in the first place. Her irresistible ear, her elegance in line and form, her insistently unexpected images that somehow make us more aware of the world around us—its Walmarts, broken cities, and places of worship. As the speaker of 'Litany of Our Radical Engagement with the Material World' says, the 'objects around us are not strangers' and neither are these poems. Meitner clarifies the hidden and public moments of our lives in these poems by exposing them to each other. She has a singular ability to be both political and comforting at the same time, which is why Copia is the perfect title for this collection. The book's expansive richness is brimming with unforgettable language, wonder, and the tension that comes from an industrial machine trying to find—and sustain—its spiritual parts."
—Adrian Matejka
Support Verse Daily
Sponsor Verse Daily!
Home Archives
Copyright © 2002-2015 Verse Daily All Rights Reserved