®

Today's poem is "Autogeography"
from We Were the People Who Moved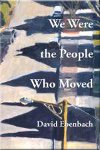 David Ebenbach
, the author of collections of fiction (Between Camelots; Into the Wilderness), poetry (We Were the People Who Moved; Autogeography) and essays (The Artist's Torah) was born and raised in the great city of Philadelphia, home of America's first library, first art museum, first public school, and first zoo, along with David's very first stories and poems, though those early efforts went on to become (deservedly) less famous than, for example, the zoo. Since those days he's lived in Ohio, Wisconsin, Philadelphia again, New York, New Jersey, Indiana, and Ohio again, picking up some education (formal and otherwise) along the way, and he now lives very happily in Washington, DC.
Other poems by David Ebenbach in Verse Daily:
Books by David Ebenbach:

Other poems on the web by David Ebenbach:
"First Day of Spring, First Spring"
"We Were the People Who Moved"
"What My Father-in-Law Says"
"We Are All On the Edge of Something"
Three poems
Two poems
"Helen Agonistes"
David Ebenbach's Website.
David Ebenbach According to Wikipedia.
David Ebenbach on Twitter.
About We Were the People Who Moved:
"In We Were the People Who Moved, David Ebenbach takes the reader on a journey across America, pausing for a freight train or for Passover in ordinary places, in poems filled with both an American restlessness and a post-Holocaust sadness. But Ebenbach also offers reasons for exalting in the glorious minutia of this often rootless world—babies are born, holidays celebrated as the "day opens wider, the sun burning/ like everything else." This is a journey you will be grateful for having taken, a book that will stay with you long after the last poem."
—Jesse Lee Kercheval
"Poem by poem, Ebenbach's new collection transforms the ordinary into the extraordinary. The result is a book of continual brilliance. Sometimes the reader is jolted by a sense of danger and displacement and sometimes the reader is stunned into recognition. Either way, we see the world anew. The world may be raw and purposeless ("The / breath I get is all mildew"), while at other times "Shabbat comes over West Philadelphia / on quiet wings." These profoundly moving poems register in the reader's heart and won't be budged. Truth-telling and tonic, they are poems by which to measure one's life."
—Kelly Cherry
"If Elizabeth Bishop's Man-Moth, the city's subterranean searcher, moved to the Midwest, he might shadow the speaker of David Ebenbach's poetry, walking the "foreign lawn and foliage" of small-town Indiana, where lightning from the "fathomless sky" strikes down Football Jesus, and where the "robotic corn" of solar panels soak up the sun's weight. Quick, quirky, and engaging, Ebenbach's urban pastorals discover noisy plagues of cicadas, broken and excavated streets, and a burdened house whose gutters sag like the mouth of someone just "starting to / understand." What redemption comes to this "inevitable place"? What escape? Clamorous passions shatter against "high white walls"; track lighting shines on "water damage, social awkwardness, deadlines." Yet brief hope arrives in the form of a charming, interruptive son and in sudden, improvised prayers, sent from "the fringes of the universe." The American anthem 'We the People' echoes strangely through We Were the People: a post-modern 'wagons west' of dislocation, brief homesteading, and the threads of regeneration. David Ebenbach, by turns impulsive, funny, astute, and moving, is a great maker."
—David Gewanter
Support Verse Daily
Sponsor Verse Daily!
Home Archives
Copyright © 2002-2015 Verse Daily All Rights Reserved