®

Today's poem is "What I Asked For"
from Hanami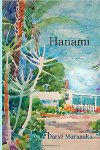 Daryl Muranaka
was raised in California and Hawaii. He received his MFA from Eastern Washington University and spent three years in Fukui, Japan in the JET Program. He currently lives in the Boston area with his wife and two children. In his spare time, he enjoys aikido and taijiquan and exploring his children's dual heritages.
Books by Daryl Muranaka:

Other poems on the web by Daryl Muranaka:
"Random Associations"
"Link"
Daryl Muranaka's Blog.
Daryl Muranaka's Website.
Daryl Muranaka on Twitter.
About Hanami:
"Daryl Muranaka's poems in Hanami are expertly spun of delicate rhythms, potent imagery, and a fine twist of longing. They feel haunting and huge, while embodying a sense of precise particularity, and soulful inquiry. Muranaka's Japanese ancestry, experience and memory, mixing with American curiosities and landscapes, shape a strong sense of belonging in language - these are poems to be savored, and treasured."
—Naomi Shihab Nye
"In his 1983 "Poetry and Ambition," Donald Hall complains that creative writing programs are mass-producing 'McPoems' and that 'every year, Ronald McDonald takes the Pulitzer.' Although Daryl Muranaka did earn an MFA in the mid-1990s ('when workshops were taught / in an abandoned bank vault'), his are slow-cooked poems, poems readers will linger over, feast on. Daryl has taken the time needed to attune his ear to 'delicate sounds so easily drowned / in the suburban silences.' Take away the crumbs of appetizers; Hanami is the main course that we've been awaiting."
—Tom C. Hunley
"Hanami is like the first partridge of spring. It bodes hope and renewal, yet asks, how did you fare that long winter? I keep it on my window sill next to Riprap and Cold Mountain Poems."
—Jon Billman
Support Verse Daily
Sponsor Verse Daily!
Home Archives
Copyright © 2002-2015 Verse Daily All Rights Reserved