®

Today's poem is "The Brink"
from The Wynona Stone Poems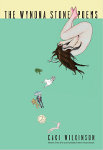 Caki Wilkinson
received her MFA from the Johns Hopkins University and her PhD from the University of Cincinnati. Her first collection, Circles Where the Head Should Be, won the Vassar Miller Prize, selected by J. D. McClatchy. She is Assistant Professor of English at Rhodes College in Memphis.
Other poems by Caki Wilkinson in Verse Daily:
May 20, 2011: "Girl Under Bug Zapper" "This haywire night, she's back from church..."
December 15, 2006: "Fisher King" " They sold my favorite dive..."
Books by Caki Wilkinson:

Other poems on the web by Caki Wilkinson:
Two poems
Nine poems
"Bower Bird"
Three poems
Three poems
Two poems
"Wynona's Dead Friend Nancy"
About The Wynona Stone Poems:
"Caki Wilkinson pulls off something miraculous in The Wynona Stone Poems , a collection that is both confessional and mythological, deeply personal as it charts the course of an utterly strange woman. In focusing on her title character, a singular creation, Wilkinson says something about what it means to be female—living, loving, aging—in turns of phrase that are odd and perfect and stick to you like gum."
—Lena Dunham
"Meet the Stones, a family of weirdoes who can't communicate with each other. And meet Wynona, a basketball star coming of age, who is learning how to fake her own life. The poems in this mind-bending book are painfully hilarious and quietly inspiring—my inner ear is ringing still. The sheer invention of these characters and their off-kilter world is stunning. The skill of the poet is evident in every jangly line, every pitch-perfect word. What a thrill it is to have this book in the world!"
—Maurice Manning
"Thank the 'snow angel without wings' that Caki Wilkinson has turned her fierce formal powers to this tale of thwarted potential. Despite the grind that is Pleasant Bluff, Wilkinson's fictional town, this witty book is anything but. The titular Wynona makes art of a modest kind: miniatures of her habitat, her old boyfriends, origami cranes. Meanwhile, Wilkinson makes art of a major kind, turning the trauma of aging into poetic gold."
—Julie Sheehan
Support Verse Daily
Sponsor Verse Daily!
Home Archives
Copyright © 2002-2015 Verse Daily All Rights Reserved