®

Today's poem is "What Breathes Us"
from Shaping Water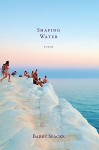 Barry Spacks
(1931 - 2014), the author of eleven previous collections of poetry, taught for 21 years at MIT and 32 years at the University of California, Santa Barbara. Shaping Water is the final book of poems collected and organized by the poet during his lifetime.
Books by Barry Spacks:

Other poems on the web by Barry Spacks:
Twenty-eight poems
"Reading an Old Friend's Poems"
Two poems
Three poems
Two poems
"With Heart"
Barry Spacks's Website.
Barry Spacks According to Wikipedia.
About Shaping Water:
"Laughter in wisdom, spirit in things, bread and imagination—there is an omnivorous, generous quality in Barry Spacks' late poems, as in Barry's presence."
—Robert Pinsky
"Compassionate, concise, sometimes comic, always on point, irresistible, wise, this book of poems, each in itself a profound pleasure to read, becomes as a whole also a manual of how to inhabit this world. It offers the mind, words, voice, and perceptions of a fully humane and fully human being."
—Jane Hirshfield
"I have loved the poetry of Barry Spacks ever since I began reading him some forty years ago—to the point of taping poems of his above my desk. You sense in every one of them the presence of a particular spirit—a spirit of great humor and great seriousness, honesty and wit, immersed in and sharply observing his life and those who have touched it…. What beautiful, singular, open-eyed and open-hearted poems these are. I will treasure them always."
—Tobias Wolff
"Barry Spacks is a wizard of compassion, wisdom—and the seamless fabric between them—in the guise of a comedian. While we are laughing or dazzled, a wise and caring presence is filling and softening our hearts, taking us on flights of the imagination which land in a new place we are surprised to discover is the kingdom of our better selves. Quite simply, his poems nurture our desire to go on living."
—Dan Gerber
Support Verse Daily
Sponsor Verse Daily!
Home Archives
Copyright © 2002-2015 Verse Daily All Rights Reserved