®

Today's poem is "Home Fires"
from Bright Dead Things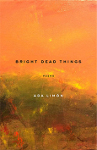 Ada Limón
grew up in Glen Ellen and Sonoma, California. A graduate of the MFA Creative Writing Program at NYU, she has won the Chicago Literary Award for Poetry. Her most recent collection of poems is Sharks in the Rivers.
Books by Ada Limón:

Other poems on the web by Ada Limón:
Four poems
"What It Looks Like To Us and the Words We Use"
Three poems
Three poems
"Crush"
Five poems
"Downhearted"
Two poems
"Fifteen Balls of Feathers"
Ada Limón's Blog.
Ada Limón on Twitter.
About Bright Dead Things:
"The lyrical genius of these poems sing to us of the perennial theme of home and our primordial ache of belonging. Ada Limón captures all the nuances that these colossal words call to mind with the gorgeous voice of her diction, and the timbre of her images. Both soft and tender, enormous and resounding, her poetic gestures entrance and transfix."
—Richard Blanco
"In Ada Limon's Bright Dead Things, there's a fierce jazz and sass ('this life is a fist / of fast wishes caught by nothing, / but the fishhook of tomorrow's tug.') and there's sadness—a grappling with death and loss that forces the imagination to a deep response. The radio in her new, rural home warns 'stay safe and seek shelter' and yet the heart seeks love, risk, and strangeness—and finds it everywhere."
—Gregory Orr
"In the wonderful and wondering poems of her fourth collection, Ada Limón picks things up, puts them down, daydreams, sings, and casually, unpretentiously finds everything strange, all the while uttering truths that have a light, mysterious accuracy. This poetry is confident enough to let the world (Brooklyn, Kentucky, Montana, and elsewhere) and its words take center stage, again and again. And yet, Limón does far more than merely reflect the world: she continually transforms it, thereby revealing herself as an everyday symbolist and high level duende enabler. At the end of one poem she writes, 'What the heart wants? The heart wants/ her horses back,' and suddenly even this most urban reader feels wild and free."
—Matthew Zapruder
"Ada Limón doesn't write as if she needs us. She writes as if she wants us. Her words reveal, coax, pull, see us. In Bright Dead Things we read desire, ache, what human beings rarely have the heart or audacity to speak of alone — without the help of a poet with the most generous of eyes."
—Nikky Finney
Support Verse Daily
Sponsor Verse Daily!
Home Archives
Copyright © 2002-2015 Verse Daily All Rights Reserved