®

Today's poem is "The Watering Hour is Dark"
from Blood Sisters of the Republic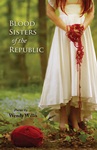 Wendy Willis
splits her time between her roles as mother, poet, and advocate for democracy. She is the Executive Director of the Policy Consensus Initiative, a national non-profit organization devoted to improving democratic governance. In addition to publishing poetry and essays in a variety of national and regional journals and serving as an adjunct fellow in poetry at the Attic Institute, Willis has served as a federal public defender and as the law clerk to Chief Justice Wallace P. Carson, Jr. of the Oregon Supreme Court. She graduated magna cum laude from Georgetown Law Center and holds a B.A. from Willamette University. She lives in Portland, Oregon, with her husband, his son and her two young daughters.
Books by Wendy Willis:

Other poems on the web by Wendy Willis:
"A Virtuous Wife"
Wendy Willis's Website.
Wendy Willis on Twitter.
About Blood Sisters of the Republic:
"With a voice as uptown as it is down-home, Wendy Willis' splendid poems make one astonishing yet satisfying leap after another. Each line is chock-a-block with a jazzy, jostling sound all her own. This poet '...stands and keens / her tunneled silence, a burr in the mouth, smooth as oil...' The width and depth of her embrace is remarkable, her vision as fearless as her full-tilt music."
—Paulann Petersen
"Wendy Willis is a poet of serious heart, a fact of enormous importance to the political and personal terms of her first book. While her politics lie in a generosity of spirit, her affections border on the extravagant. There is something wonderfully wild at the center of her poems, a freedom earned by craft. Blood Sisters of the Republic is as much about its local life as it is about national conscience. Plentitude and complexity are the hallmarks of its voice. And love is its signature."
—Stanley Plumly
"I was born under the sign of the pulp mill,' writes Wendy Willis at the opening of this startlingly acrobatic collection. In poems that sing of a lineage 'maimed by plainness,' her republic of bruised plums, sourdough starts, and black-capped chickadees is as ravaged as it is irresistible. It's a crowded, complicated, and often comical Republic. Her writing is like no one's I know. Her book is a homage to the exquisite madness of real life."
—David Keplinger
"'Here's a full-out 21st century poet — wrangler with history, domestic confidante, disrupter of narratives, down-home story teller, linguistic fire breather. Wendy Willis fills this striking book to bursting with the rich matter of home life and the world's grand, baffling sweep."
—Greg Glazner
"'What is this creature Wendy Willis calls Blood Sisters of the Republic? Let me offer a few excited observations: a compendium, an almanac, a miscellany. A genealogy both personal and broadly American. An investigation of loss. A lush, lyrical hymn to maddening and beloved communities that define us. Willis deftly inhabits a tremendous number of drives — the lyrically sensual, the intimately epistolary, the historiographic — but most central to the spirit of this stunning first collection is the drive to pay unceasing attention to the ruined and tender world. Blood Sisters of the Republic explodes all well-behaved notions of what a collection of poetry might contain, insisting on a vaster and more civic notion of the art form."
—Lisa Purpura
Support Verse Daily
Sponsor Verse Daily!
Home Archives
Copyright © 2002-2013 Verse Daily All Rights Reserved