®

Today's poem is "Doubt"
from Six Sundays Toward a Seventh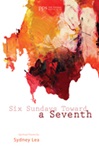 Sydney Lea
lately retired after more than forty years of teaching at Dartmouth, Yale, Wesleyan, and Middlebury Colleges, as well as at several European universities. Lea was a Pulitzer finalist for his volume of poems Pursuit of a Wound, and won the 1998 Poets' Prize. He holds the doctorate in Comparative Literature from Yale. Recipient of fellowships from the Guggenheim, Rockefeller, and Fulbright Foundations, he founded and for thirteen years edited New England Review, one of the nation's leading literary quarterlies. This is his tenth volume of poems; he is also author of a novel, A Place in Mind, and two collections of naturalist essays, Hunting the Whole Way Home and A Little Wildness. He is currently the poet laureate of the state of Vermont.
Other poems by Sydney Lea in Verse Daily:
June 9, 2013: "Idiot Moon" "The hard-edged candor of moon in her early rising..."
September 12, 2009: "I Was Thinking of Beauty" "I surrender myself to Charles Mingus. I'm spinning Tijuana Moods..."
Books by Sydney Lea:

Other poems on the web by Sydney Lea:
"To a Young Father"
Four poems
"Children, Singing"
"Forever"
Three poems
Four poems
"Abbatoir Time"
Sydney Lea's Website.
Sydney Lea According to Wikipedia.
About Six Sundays Toward a Seventh:
"The life in Sydney Lea's poems is entirely local, whether the locale is Italy, Montana, or his home in Vermont . . . The making of the soul that occurs in Sydney Lea's poems is intimately connected with the place where the making occurs . . . Sydney Lea's poems show us that all spirituality is local spirituality. He is our preeminent poet of the soul's making among local places and people."
—Mark Jarman
"Sydney Lea's heartbreaking and heartening poems look, with the utmost honesty, at 'what we may or may not be / here on earth.' . . . [These] urgent poems give us back the depth of our existence. With intelligence, passion, and humility, Lea embraces the task he has been given: to record those 'warming recollections' of parents, friends, wife and children, and to acknowledge how this 'splendid universe subsumes . . . his small dumb witness' into a 'hymn of grateful praise.'"
—Robert Cording
"In this book Sydney Lea invites us to take a spiritual journey . . . By the end of Six Sundays, the narrator and the reader step together into radiant light. What is so moving about Six Sundays is not only its wrestling with spiritual questions, but also Lea's affirmation that life is a spiritual journey and that this journey is of paramount importance."
—Jeanne Murray Walker
"From his experience of doubt to his affirmation of the Mystery, the poet's faith shows through honest and eloquent language . . . Lea's unique gift of language opens up the most ordinary detail of village life in northern Vermont and raises it to universal significance. His compassionate gaze at suffering and loss is balanced by his embrace of nature in all its forms and by moments of ecstatic revelation."
—Robert Siegel
Support Verse Daily
Sponsor Verse Daily!
Home Archives
Copyright © 2002-2013 Verse Daily All Rights Reserved