®

Today's poem is "Why I Love What Breaks Down"
from Little Black Daydream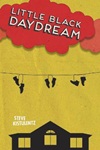 Steve Kistulentz
Steve Kistulentz is the author of two books of poetry. His previous book, The Luckless Age, won the Benjamin Saltman Award. New poems from Little Black Daydream have appeared or are forthcoming in The Cincinnati Review, The Louisville Review, The Southern Review, Pank, Shadowbox, and elsewhere. He lives in Jackson, Mississippi, where he teaches creative writing and literature at Millsaps College.
Books by Steve Kistulentz:

Other poems on the web by Steve Kistulentz:
"Fuck Poem with Language from the Gospel of Mark"
"Death is a Hysterical Dynasty"
"The David Lee Roth Fuck Poem..."
"Hot Child in the City"
Steve Kistulentz's Website.
Steve Kistulentz According to Wikipedia.
Steve Kistulentz on Twitter.
About Little Black Daydream:
"These poems hurtle through life, wide-eyed and bewildered by what has been abandoned, by what has been lost, by what is hurtling past—'The telegram came today: I will never reach the moon.' Yet, in spite of the wreckage, Little Black Daydream bristles with shards of wisdom and moments of sheer joy."
—Nick Flynn
"Little Black Daydream, is a chronicle of post-capitalist America. With a precise ear for the American patois, it addresses the uncertainty of the future at the exact moment when those questions are at the forefront of our culture. The book teems with the dazzling detritus of desire, capitalism, and apocalypse—and the poems demonstrate an astonishing adeptness at pushing language to portray this strange moment in our histories, both the personal and the fantastical."
—Carmen Giménez Smith
"Wry, spry, entrancing and intelligent, the poems of Little Black Daydream invite us into a richly imagined future: not just post-apocalyptic, but post-everything. What a haunting, dark, and oddly comic world, where inhabitants 'fashion hobo bags out of surplus Che Guevara tee-shirts / and fill them with the molars of the dead,' and where 'the Secretary of Consolidated Debt tells his sons each morning: / when I was your age, no independent clause.' We wake from our Little Black Daydream bolstered by our imaginative sojourn in this precisely rendered world. This book is a major accomplishment."
—Beth Ann Fennelly
Support Verse Daily
Sponsor Verse Daily!
Home Archives
Copyright © 2002-2013 Verse Daily All Rights Reserved