®

Today's poem is "A Thousand Words"
from The Gold Thread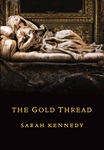 Sarah Kennedy
is the author of seven books of poetry and the upcoming novel, The Altarpiece, the first in a series of historical mysteries. Recipient of NEA, Virginia Commission for the Arts, and Virginia Commission for the Humanities Grants, she is a professor of English at Mary Baldwin College.
Other poems by Sarah Kennedy in Verse Daily:
February 9, 2008: "A Holiday" "White feathers snowing the highway, thank God..."
July 7, 2005: "Revelation: 1373" "Perhaps it was sudden, the Death..."
February 9, 2004: "Deer" "Halfway across the empty interstate, I stopped..."
Books by Sarah Kennedy:

Other poems on the web by Sarah Kennedy:
"The Visions of Bertie Hoskins"
Three poems
About The Gold Thread:
"I'm surprised not only by Sarah Kennedy's astonishingtechnical skills--I've read all her books with delight--but by the array ofvoices and personalities she brings to The Gold Thread, all in the service of providing a lyrical survey ofviolence, mysticism, insanity, empire, and powerful communion with God. Populated by an array of historicalmartyrs, wild-eyed seers, and female mystics--by the questionably sane and thosewho see all to clearly where we're headed--these poems make my head spin, alwaysdescribing not merely our shared past, but our harrowing present of violence,evangelism, and unstable empire. I already know this will be one of the bestbooks I'll read this year."
—Kevin Prufer
"With a range that extends from Pompeii's destruction to modern-day America's extremes of faith and folly, Sarah Kennedy regards human experience, especially women's lives, with a gaze alert to injustice and a voice that's unmistakable. History-haunted, justly angry, or ecstatic, Kennedy's poems express with equal force a martyr's searing judgment, a shunned pilgrim's religious fervor, or a woman's forebodings over news reports of war. In tracing how intense belief may enrich or distort what we behold, The Gold Thread offers outcast saints, women accused of witchcraft, and other visionaries, troubled yet far-seeing, in poems that are urgent, eloquent, and unforgettable."
—Ned Balbo
"Sarah Kennedy's The Gold Thread is an extended meditation on the quest for meaning--spiritual or otherwise--in a troubled world. Moving seamlessly from considerations of our spiritual foremothers, women who sought liberation and selfhood through the communion with God, to lamentations for the current state of things, these fierce, elegant poems serve as a kind of cautionary tale. They remind us of the possibility of another fall brought on by the myopia of empire, by war and the sins of injustice. Soberly and powerfully, Kennedy shows us that the golden thread is also what ties us to our past and, inevitably, to our future."
—Natasha Trethewey
Support Verse Daily
Sponsor Verse Daily!
Home Archives
Copyright © 2002-2013 Verse Daily All Rights Reserved