®

Today's poem is "Beyond the Crepe Myrtles, Blue Yodel"
from The Red Wolf: A Dream of Flannery O'Connor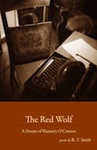 R. T. Smith
serves as Writer-in-Residence at Washington and Lee University, where he has edited Shenandoah since 1995. His dozen books of poetry include Messenger (LSU) and Outlaw Style (Arkansas), which both received the annual Library of Virginia Book Award. He has lived in Georgia, Alabama and North Carolina and currently resides in Rockbridge County, Virginia with his wife, the writer Sarah Kennedy.
Other poems by R. T. Smith in Verse Daily:
November 27, 2007: "Energy" "On days like this, Roosevelt's whirligigs..."
August 26, 2002: "Improvident Knowledge" by "Because I suffer from the human habit / of taking safety for granted...."
August 10, 2002: "Scribe" "...a cricket in the sugarbush / is mourning..."
July 1, 2002: "Hardware Sparrows" "Out for a deadbolt, light bulbs / and two-by-fours..."
Books by R. T. Smith:

Other poems on the web by R. T. Smith:
Twenty-nine poems
"Orchard of One"
Three poems
Three poems
Three poems
Two poems
"Sourwood"
Two poems
"Moth Aubade"
"Shades"
R. T. Smith's Blog.
R. T. Smith's Website.
R. T. Smith According to Wikipedia.
R. T. Smith on Twitter.
About The Red Wolf: A Dream of Flannery O'Connor:
"In The Red Wolf: A Dream of Flannery O Connor, R. T. Smith fuses the facts of Flannery O Connor's biography with a richly imagined dreamscape, taking us from Yaddo to Iowa to Milledgeville, Georgia "the peacock s shriek blistering the midnight air." With the intricate artistry for which he is deservedly known, Smith creates and sustains a voice surprising as it is believable, the "hick-ridiculous" and hilarious of her life and fiction in perfect balance with "sunsets, a river, a car, fresh blood." Smith takes into his account as well the lupus that came to define O'Connor's physical reality and the "flight or asylum" that became her remarkable literary outpouring. The Red Wolf will delight O Connor fans and seduce anyone not already smitten."
—Claudia Emerson
"Raise the curtain. Here she is: R. T. Smith's Miss Flannery herself, stumping her crutches onto the stage to wrestle "the prophets and blessed dimwits" down to the mat and onto the page. Here she is, no nun, no saint, but fleshed out funny in all her ambition and longing: "Did you reckon I was all thistle/ inside?" Here she is, pecking away at her Royal or "unsteady on her legs," but fierce as the "joyful mysteries, luminous and sorrowful." Smith has given us a book that s an act of love if ever there was one."
—Alice Friman
"R. T. Smith is one of the most vital voices in contemporary American poetry."
—Alice Friman
Support Verse Daily
Sponsor Verse Daily!
Home Archives
Copyright © 2002-2013 Verse Daily All Rights Reserved