®

Today's poem is "Tiger"
from Within This Tree of Bones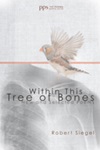 Robert Siegel
(1939-2012) is the author of ten books of poetry and fiction. His poetry includes A Pentecost of Finches, The Waters Under the Earth, In a Pig's Eye, and The Beasts & the Elders. His poetry has won prizes and fellowships from Poetry, Prairie Schooner, America, the Friends of Literature, the Ingram Merrill Foundation, and the National Endowment for the Arts. His fiction includes the award-winning Whalesong trilogy. He has taught at Dartmouth, Princeton, Wheaton, and the University of Wisconsin-Milwaukee, where he was professor emeritus of English.
Books by Robert Siegel:

Other poems on the web by Robert Siegel:
"Rinsed with Gold, Endless, Walking the Fields"
Nine poems
"Airfield"
Robert Siegel's Website.
Robert Siegel According to Wikipedia.
About Within This Tree of Bones:
"Robert Siegel is one of my favorite poets, and I'm frustrated that so many readers are unfamiliar with him. This handsome 'new and selected' volume is an ideal introduction to his work, and I may just resort to hawking it on street corners, like those ragamuffin kids peddling papers in old movies. You want the latest news? Read Within This Tree of Bones."
—John Wilson
"Robert Siegel possesses the transformational power of a wizard. Whether he casts his eye on a pig or a night crawler, whether he is standing in falling rain or in a swath of sunlight, he can make the world seem more like itself. For forty years now his poetry has been clarifying the world for me. Bob's new sonnets bring biblical subjects and landscapes into such intimate and vivid language that I will never again think of them in the same way. The things he writes about—as he says in 'The Annunciation'—grow 'more distinct, themselves / in a way beyond explaining.' That seems to me to be a brilliant definition of what great poetry can do. It clarifies the world beyond any other kind of explanation. This book does that. It is filled with great poetry."
—Jeanne Murray Walker
"Robert Siegel's business is tracking whatever order, not chaos, obtains. He knows certainly 'the helpless dance out their fear' as much as 'the divine tread fall[s] again and again.' A cornucopia of wise songs, monologues, psalms, prayers, fables, sonnets, and more, Within This Tree of Bones is what I think a career book should be: ambitious, sonorous, eclectic, serious, joyful."
—David J Smith
Support Verse Daily
Sponsor Verse Daily!
Home Archives
Copyright © 2002-2013 Verse Daily All Rights Reserved