®

Today's poem is "contemplation within the framework of the dream"
from Because I Am the Shore I Want to Be the Sea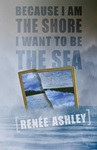 Renée Ashley
is the author of five full-length collections of poetry, two chapbooks, a novel, and numerous essays. She is on the faculty of the low-residency MFA in Creative Writing at Fairleigh Dickinson University.
Other poems by Renée Ashley in Verse Daily:
February 26, 2012: "Armadillo" "Deep in the unlit palm scrub, a rustling..."
July 5, 2005: "Simple" "and the whole white sky descends a grain..."
December 8, 2004: "Oh Yes Tomorrow Expect the Ordinary" "Oh Yes Tomorrow Expect the Ordinary..."
Books by Renée Ashley:

Other poems on the web by Renée Ashley:
Two poems
Two poems
[because I am the shore I want to be the sea]
"Obsolete Angel"
"Sort of a Love Poem"
"The Revisionist's Dream (I,II,&III)"
"I Have a Theory about Reflection"
Renée Ashley's Website.
Renée Ashley According to Wikipedia.
About Because I Am the Shore I Want to Be the Sea:
"'Except for every thing we're interchangeable' writes Renee Ashley, humorously exposing the limberness of language to express insight in paradox, using words to bend understanding inside out. In tautly wrapped prose packages, Ashley makes lyric precision express the errancy in logic, and demonstrates how the real will trump our attempts to contain it, though we are endlessly tempted to try. 'The rabbit was stew Hard not to wager abstraction after that.' With no periods to clarify the ends of sentences, she lets form remind us that nothing ends neatly, the way we'd like it to. These language vessels navigate a fecund privacy made eerily public, arriving with iconic force. Yet, 'vessels' on their way to safe landings, they are not. As she tells us: even 'call it a vessel....And it sorries....pipes all over the ark are breaking.' Uncanny is every glimpsed otherness, be it in the guise of 'aborted' 'twins,' or 'crippled chipmunks' or the 'ghost text appear[ing] in waves.' Does it trouble us? Does un-reason's proximity confound? Clearly, if it does, the problem is our own, 'the one-legged birds stand on their one leg The world is not broken The world is local Singing in its spinning dish' Come inside these poems, and you will hear it."
—Rusty Morrison
Support Verse Daily
Sponsor Verse Daily!
Home Archives
Copyright © 2002-2013 Verse Daily All Rights Reserved