®

Today's poem is "In Praise of What Does Not Belong to Us"
from Toucan Nest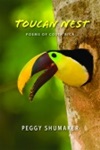 Peggy Shumaker
is Alaska State Writer Laureate. Her previous book of poems is Gnawed Bones. Her lyrical memoir is Just Breathe Normally. Toucan Nest, her most recent collection, grew from an eco-arts writing workshop in Costa Rica. Professor emerita from University of Alaska Fairbanks, Shumaker teaches in the Rainier Writing Workshop. She is founding editor of Boreal Books, publishers of fine art and literature from Alaska. She edits the Alaska Literary Series at University of Alaska Press.
Other poems by Peggy Shumaker in Verse Daily:
April 16, 2010: "Long Before We Got Here, Long After We're Gone" "In the season blue-white sun..."
November 26, 2005: "Autumn" " Higher than sandhill cranes..."
Books by Peggy Shumaker:

Other poems on the web by Peggy Shumaker:
"Night Dive"
Three poems
Three poems
"Constellations"
"What to Count On"
"The Story of Light"
"Horny Toads"
"The Oldest Music" Peggy Shumaker's Website.
About Toucan Nest:
"This is a book of burnished, lapidary attention. Its poems - vibrant with seeing, quickened with sound-work, subtled by insight - peel open landscapes both outer and inner. The costs of our human presence and extractions are in these pages, but also the radiant return of human awareness. Toucan Nest is a unique account of encounter, imaginative inquiry, and expansion."
—Jane Hirshfield
"Shumaker's vivid Toucan Nest is about learning to see - Costa Rica serving as the textbook. Between the parentheses of arrival and departure, the pages burst with lessons - rich, beautiful, and sometimes terrifying. For us, looking over her shoulder, it is education by proxy. So iridescent is Shumaker's language, we are there, floating downriver with the crocodiles, watching panicky iguanas hustling from a fire, the basilisk lizard "zipping / zigzag on hind legs," a flash of green and ruby eyes, and oh, did you hear it? the love cry of the jaguar and the cry of the quetzal whose morning song brings the whole blessed world to life. A dazzle of a book."
—Alice Friman
Support Verse Daily
Sponsor Verse Daily!
Home Archives
Copyright © 2002-2013 Verse Daily All Rights Reserved