®

Today's poem is "20"
from Divine Madness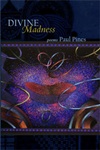 Paul Pines
grew up in Brooklyn around the corner from Ebbet's Field and passed the early 60s on the Lower East Side of New York. He shipped out as a merchant seaman, spending 1965-66 in Vietnam, after which he drove a cab and tended bar. Pines opened his jazz club, The Tin Palace, in 1973. It became the setting for his novel, The Tin Angel (Morrow, 1983). Redemption (Editions du Rocher, 1997), a second novel, is set against the genocide of Guatemalan Mayans. His memoir, My Brother's Madness, (Curbstone Press, 2007) explores the unfolding of intertwined lives and the nature of delusion. Pines has published eight books of poetry: Onion, Hotel Madden Poems, Pines Songs, Breath, Adrift on Blinding Light, Taxidancing, Last Call at the Tin Palace, and Reflections in a Smoking Mirror. Poems set by composer Daniel Asia appear on the Summit label which includes Asia's 5th Symphony (poems by Pines and Yehuda Amichai), and The Tin Angel Opera based on Pines novel. As a translator he has contributed to Small Hours of the Night, Selected Poems of Roque Dalton, (Curbstone, 1996); Pyramids of Glass (Corona 1995); Nicanor Parra, Antipoems: New and Selected (New Directions, 1986). He is the editor of the Juan Gelman tribute issue of The Cafe Review (Summer, 2009) and Gelman's selected poems translated by Hardie St. Martin, Dark Times/ Filled with Light (Open Letters Press, 2012).Pines has conducted workshops for the National Writers Voice program and lectured for the National Endowment for the Humanities. He has been a fellow at the MacDowell Colony, Ossabaw Foundation, and Virginia Center for the Arts, as well as a recipient of an Artists' Fellowship, N.Y.S. Foundation for the Arts, and a CAPS Fellow in Poetry. He is a member of PEN, BMI, C.G., Jung Foundation, and The Author's Guild. Paul Pines lives with his wife, Carol, in Glens Falls, NY, where he practices as a psychotherapist and hosts the Lake George Jazz Weekend.
Books by Paul Pines:

Other poems on the web by Paul Pines:
Two poems
from Divine Madness
Paul Pines's Website.
About Divine Madness:
"Pines goes right to the radical nature of metaphor in poetry, not ornament but sudden discernment: sharp observation of historical events and natural things leads directly, deeply, to moral awareness. His lines seem to question the assertions they embody: interrogate by interruption. He is the quiet sage who makes everything in his room a tender plaything. Try the poem on Audubon and see a masterful riff on how to watch with the heart."
—Robert Kelly
"With extraordinary daring and inspiration, Paul Pines has dedicated the art he has exquisitely crafted for a lifetime to the service of the divine madness that has always distinguished poetry from mere writing. In relentless pursuit of the unity we instinctively crave, he captures the universal analogy anew by 'connecting us to the consciousness of the gods in men' through dazzling poem after poem in this stunning book."
—George Economou
"In these beautifully crafted poems Paul Pines takes us on a dizzying ride through mythological and religious thinkers, through science and philosophy. It is the quest of a man trying to hear the 'music/beneath the music' that he hopes, doubts, believes is thereóDivine Madness. Pines asks what it means to face death and despair, what it means to doubt meaning while believing in meaning, what it has meant through the centuries."
—Susan Sherman
"I am really moved by this work; segment after segment opens into familiar places, and then into places unfamiliar."
—James Hollis
Support Verse Daily
Sponsor Verse Daily!
Home Archives
Copyright © 2002-2013 Verse Daily All Rights Reserved