®

Today's poem is "Ode to the Artichoke"
from Sublime Blue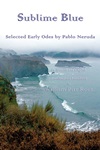 Pablo Neruda
(1904-1973) remains an iconic and much beloved Chilean poet. A recipient of the Nobel Prize for literature, he was also a diplomat and a political lightning rod. Colombian novelist Gabriel García Márquez once called Pablo Neruda "the greatest poet of the 20th century in any language."
William Pitt Root's numerous poetry collections include The Storm and Other Poems, Reasons For Going It On Foot, Faultdancing and Trace Elements from a Recurring Kingdom: The First Five Books of William Pitt Root. Honors accorded his poetry, which appears in The Atlantic, New Yorker, The Nation, and Poetry, include grants from the Rockefeller and Guggenheim Foundations, and the National Endowment for the Arts; a Stegner Fellowship at Stanford and a United States/United Kingdom Exchange Artist Fellowship. Root's work, published in twenty languages, has won the Stanley Kunitz Prize and Guy Owen awards, and three Pushcart Prizes. Root's academic career includes periods at Hunter College-CUNY, the University of Montana, Amherst College, Interlochen Arts Academy, New York University, and Distinguished Visiting Writer residencies at Pacific Lutheran and Wichita State Universities. Most recently he has served as the John C. Hodges visiting writer at the University of Tennessee, Knoxville. He and his wife, poet Pamela Uschuk, live primarily in the West with a cadre of four-legged companions and enjoy traveling widely to teach and read from their works at home and abroad. As a child growing up where the Everglades meet the Gulf of Mexico, Root often smuggled a radio into his bed nights so he could hear the late night Spanish broadcasts from Havana. "That music came from a part of the universe where people knew how to live their lives far more passionately than anyone I'd ever met. I was mesmerized and heartened by all that energy, all that poetry, as a kid. I still am."
Books by Pablo Neruda translated by William Pitt Root:

About Sublime Blue:
"In addition to vibrant translations of Neruda's early odes, William Pitt Root has given us a fine introduction about why this gathering matters. In both the original poems and the translations, the high energy is exciting and clear. And having assimilated Neruda's seemingly off-handed style in what he calls these "tall, slender poetic stalks," Root has a world of gifts for us that's powerful and engaging."
—James Hoggard
"Two great voices meet and dance in this sterling new translation. Bill Pitt Root is the perfect partner for Neruda. Pure joy."
—Luis Urrea
"Sublime Blue is an extraordinary and very welcome collection of Neruda's early odes, from those well-known in English to those unknown. Poet William Pitt Root has done a masterful job of bringing some of Neruda's most enigmatic poems into English. Neruda's majestic language and vision are rendered here with passion and eloquence. This is a true gift to poetry."
—Marjorie Agosín
Support Verse Daily
Sponsor Verse Daily!
Home Archives
Copyright © 2002-2013 Verse Daily All Rights Reserved