®

Today's poem is "A Last Moth of August"
from Pacific Walkers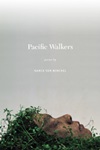 Nance Van Winckel
is the author of five books of poetry, including No Starling and After a Spell, winner of the Washington State Governor's Award for Poetry, and three collections of short stories. Her numerous awards include two National Endowment for the Arts Poetry Fellowships, a Pushcart Prize, and Poetry Magazine's Friends of Literature Award. She lives near Spokane, Washington, with her husband, the artist Rik Nelson.
Other poems by Nance Van Winckel in Verse Daily:
February 23, 2012: "Talk-Talk, Ambulance Style" "No, the snow did not burn you. Let's try..."
September 22, 2011: "Coxwain" "My silence grants the rowers..."
January 15, 2010: "His Other Car Was a Train" "My tapping for him..."
September 3, 2008: "Word for Word" "Halfway into the book..."
July 17, 2008: "Almost Impervious" "From across the river a last dream..."
April 23, 2008: "Knowing No Better" "In the course of one night..."
June 12, 2007: "Eat This" " Target cake with a bull's-eye looming...."
February 19, 2007: "Sky One" "In an early sky, the molecules of my wings..."
December 28, 2006: "The Object of the Object" " : to bound, or be..."
November 6, 2006: "The Forgiveness Channel" " Is your shadow bird over..."
December 20, 2005: "And the Wound Says" " Step into the river and let the ripples cool us...."
June 24, 2005: "When the River Comes Toward Me" "it comes with whatever it's..."
January 12, 2005: "Awaiting the Return Ferry" "Ghostly, echoes of old guffaws from a crowd..."
July 13, 2004: "Simone Weil at the Renault Factory (1935)" "A thread in a line of threads, she stands..."
January 9, 2004: "Let me Remind You You Are Still Under Oath" "Out of marsh out of the bronchial..."
February 3, 2003: "Passing Through the Shadows Of Great Buildings" "The beggar in plaid blankets wanted to kiss my hand..."
January 15, 2003: "Cautionary Tale" "The funny bearded goat..."
January 6, 2003: "Bid Me Be the Bird" "May the lower, liquid half of the world..."
Books by Nance Van Winckel:

Other poems on the web by Nance Van Winckel:
"I Held the Axe,"
Eleven poems
"Canals"
"Signing On with The Daily Sun"
"Agape"
Two poems
"Waking, Working"
Seven poems
"Verlaine Still in Prison"
"Jonah, Going the Opposite Way"
"The Company We Keep"
"Nicholas by the River"
"Insemination Tango"
"Slate"
Nance Van Winckel's Website.
Nance Van Winckel's Blog.
Nance Van Winckel's Website.
Nance Van Winckel According to Wikipedia.
Nance Van Winckel on Twitter.
About Pacific Walkers:
"An exquisite collection. Those who love stories; those who are interested in ways of thinking about memory, the passing of time, family history, old photographs; and those who enjoy just hovering for a moment in the beauty of arresting details and language will be eager readers of Pacific Walkers."
—Nancy Eimers
"Nance Van Winckel's new collection is alive with the natural world, full of kinetic storytelling and a willingness to observe even the smallest part of our lives which, of course, often impact us the most. This is also a book of poems that celebrate the ten thousand things of our culture, from The Bronze Age to Value Village. Van Winckel knows that part of the poet's job is to witness back to us our own experience and she does this with a voice I am happy to know is singing in the sometimes dark and rainy days of our planet."
—Matthew Dickman
Support Verse Daily
Sponsor Verse Daily!
Home Archives
Copyright © 2002-2013 Verse Daily All Rights Reserved