®

Today's poem is "Here Be Monsters"
from The Earth Is Not Flat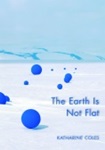 Katharine Coles
is the author of five collections of poems and two novels. In 2010, she traveled to Antarctica to write poems under the auspices of the National Science Foundationís Antarctic Artists and Writers Program; The Earth Is Not Flat comprises poems from that project. Coles is the recipient of fellowships from the NEA and the John Simon Guggenheim Memorial Foundation. Her poems, essays, and stories have appeared in such journals as The Paris Review, The Gettysburg Review, Poetry, North American Review, Southwest Review, DIAGRAM, and Ascent, and have been translated into Italian, Dutch, and Chinese. She has contributed invited chapters to Research Methods In Creative Writing (Palgrave-Macmillan, UK, 2012) and Teaching Creative Writing (Continuum Books, UK, 2008). As the inaugural director of the Poetry Foundationís Harriet Monroe Poetry Institute, she edited and co-authored Blueprints: Bringing Poetry to Communities (University of Utah Press and The Poetry Foundation, 2011); co-authored Poetry and New Media: A Userís Guide, for which she also directed the working group; and co-facilitated the production of Best Practices in Fair Use for Poetry, produced by the Institute in partnership with the Center for Social Media at the American University. She is a full professor of creative writing and literature at the University of Utah, where she founded and co-directs the Utah Symposium in Science and Literature.
Other poems by Katharine Coles in Verse Daily:
May 31, 2009: "Numbers" "They won't stick. They gleam like brilliantine...."
Books by Katharine Coles:

Other poems on the web by Katharine Coles:
Three poems
"Hawks"
"Hotel Mercure"
Two poems
About The Earth Is Not Flat:
"Katharine ColesíThe Earth Is Not Flat captures the essence of Antarctica through its wonderful depictions of myriad forms of ice, rich diversity of sea life, and the people that carve out a life of science upon its shores. Collectively, the poems paint a poignant and prophetic storyónot only of the raw and challenging beauty of this remarkable placeóbut of the interdependence of ice and life in a rapidly changing environment."
—James McClintock
"Katharine Coles sails to Antarctica and takes a fresh and startled look at a world that seems first hand in these lucid, well-made, scientifically alert, precise, and bedazzled poems."
—Edward Hirsch
Support Verse Daily
Sponsor Verse Daily!
Home Archives
Copyright © 2002-2013 Verse Daily All Rights Reserved