®

Today's poem is "Stuck at the Beginning"
from Stray Cat Blues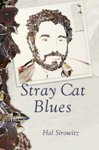 Hal Sirowitz
is the former Poet Laureate of Queens, New York. He served for three years, beginning in 2000. He has been awarded residencies at Yaddo, The MacDowell Artist Colony, Ragdale, among others. He has been a recipient of the New York State Foundation for the Arts Fellowship, and the National Endowment of the Arts Fellowship in Poetry. The Metropolitan Transportation Agency and the Poetry Society of America selected one of his poems to appear on New York City Buses and Subways. His poetry has been selected for many anthologies, including ones edited by Billy Collins, Alan Kaufman, and Garrison Keillor. Keillor has performed his poetry on his radio show, The Writers Almanac and has recently included an interview with him for The Writers Almanac Bookshelf. His poetry has been published in Ploughshares, Beloit Poetry Journal, River Styx, New Letters, and many others. The composers Alla Borzova and David Eddleman have put some of his poems to music, and it has been performed at Symphony Space, Lincoln Center, Aspen Music Festival, and other venues. His poetry and books have been translated into thirteen languages, including Portuguese, Macedonian, Icelandic, Korean, Hebrew, Turkish, and Japanese. He now resides in Philadelphia, Pennsylvania.
Books by Hal Sirowitz:

Other poems on the web by Hal Sirowitz:
Three poems
Twenty-eight poems
Two poems
Two poems
Three poems
"Why God Created Eve"
Two poems
Seventeen poems
"Dirty Restrooms Can Kill Love"
"Overheard on the Bus"
"Why I Liked Root Beer"
Hal Sirowitz's Blog.
Hal Sirowitz's Website.
*Hal Sirowitz According to Wikipedia.
Hal Sirowitz on Twitter.
About Stray Cat Blues:
"His deadpan humor is Jewish, tender, self-mocking and yet infused with strong feeling. The portrait of the mother in these poems is as affecting in its way as the portrait of Portnoy's mother in Portnoy's Complaint. The naïveté animating Mother Said succeeds because it is so clearly genuine and not sentimental or willed."
—David Lehman
"If one reads enough Hal Sirowitz poems, the whole world seems to become material for poetry. That is part of the gift of his work.... Sirowitz's poetry is a celebration of ordinary life, and in its own way may signal the most radical democratization of poetry since the work of Whitman first appeared.... If much of contemporary poetry appears to celebrate an inflation of the self, Hal Sirowitz's poems are refreshing because they are so accepting of real-life moments of deflation.... These newest poems have a fresh delicacy and subtlety; in some ways they remind one of the later paintings of Cezanne, where his still-life fruits become almost transparent."
—Liz Rosenberg
"Hal Sirowitz is the bard of the deadpan delivery. His poems are like a mad combination of the haiku and the Borscht Belt – they make me laugh and smile with happiness at the pain of being alive."
—Jonathan Ames
"Hal Sirowitz's poems are wildly funny with an aftertaste of heartache – radiantly clear but haunted by the unspoken. His compressed plots unfold in the subconscious at warp speed. Beautifully grounded in specifics, this is transcendent poetry."
—D. Nurkse
Support Verse Daily
Sponsor Verse Daily!
Home Archives
Copyright © 2002-2013 Verse Daily All Rights Reserved