®

Today's poem is "Ornithology 101"
from Through the Second Skin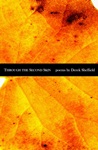 Derek Sheffield
was born in Portland, Oregon, and grew up there and on the shores of Washington's Puget Sound. He is a graduate of the University of Washington's creative writing program and has published his poems widely in literary journals such as Poetry, The Georgia Review, The North American Review, Alaska Quarterly Review, Orion, and The Southern Review. Among his awards are the Hazel Lipa Environmental Chapbook Award, the Sparrow Prize in Poetry, and the James Hearst Poetry Prize judged by Li-Young Lee. In addition, he was the runner-up for the 2012 Emily Dickinson First Book Award and a finalist for the Walt Whitman Award. He teaches at Wenatchee Valley College and lives with his family in the foothills of the Cascade Mountains near Leavenworth, Washington, where he has led birdwatching hikes and where he participates annually in the Audubon winter bird count.
Books by Derek Sheffield:

Other poems on the web by Derek Sheffield:
"Aubade"
Three poems
Two poems
"Mosses, Slugs, and Mount Rainier"
"On Turning One"
"An Accurate Account of the West"
"Mr. Rogers"
"Delicious Apocalypse"
"Home by the Tracks"
Two poems
About Through the Second Skin:
"In carefully chosen moments rendered through sharp and precise images, Derek Sheffield reveals the vulnerability and strength of the soul. There it is on every page—in every flicker and stone of living light portrayed and defined throughout this book. Take note of its many names."
—Pattiann Rogers
"These poems by Derek Sheffield demonstrate, more clearly than anything I might manage to say about them, the remarkable flexibility of his voice and the versatility of his penetrating attention. From the forthright, robust Anglo-Saxon of 'Firefighters Walk into Mountain Sports' (done so ably it would have made Richard Hugo envious) to the witty, scholarly, wry images and rhythm of 'Holy Traffic at the Universal Gate,' he shows himself capable of handling almost any tone and texture convincingly. Many contemporary poets content themselves (not the rest of us) with one medium-paced voice which keeps delivering a kind of extruded poetry, no matter what the subject or the shifts of mood might be. Readers, if they're awake and aware, will find Derek Sheffield a refreshing and rewarding source of satisfaction."
—David Wagoner
Support Verse Daily
Sponsor Verse Daily!
Home Archives
Copyright © 2002-2013 Verse Daily All Rights Reserved