®

Today's poem is "Recession Commandments"
from Blowout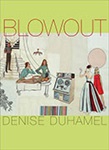 Denise Duhamel
is professor of English at Florida International University and the author of numerous poetry collections, including Ka-Ching, Two and Two, and Queen for a Day: Selected and New Poems. Duhamel has written five chapbooks of poetry and coedited, with Maureen Seaton and David Trinidad, Saints of Hysteria: A Half-Century of Collaborative American Poetry. The recipient of numerous awards, including an NEA fellowship, she has been anthologized widely, including Penguin Academics: Contemporary American Poetry; Seriously Funny: Poems about Love, Death, Religion, Art, Politics, Sex, and Everything Else; and Word of Mouth: Poems Featured on NPR's "All Things Considered." Duhamel is guest editor for The Best American Poetry 2013.
Other poems by Denise Duhamel in Verse Daily:
September 21, 2005: "eBay Sonnets" " The first time I moved to a warm climate..."
March 19, 2005: "Noah and Joan "" It's not that I'm proud of the fact..."
Books by Denise Duhamel:

Other poems on the web by Denise Duhamel:
Eleven poems
"Ego"
Two poems
"Ai"
Four poems
"I've Been Known"
Two poems
Three poems
Denise Duhamel According to Wikipedia.
About Blowout:
"Denise Duhamel's Blowout chronicles the journey from heartbreak to new love but is so much more. It is a meditation on love and the sacrifices we make to create it in tenements, in condos, on boardwalks, and in our own hearts. Wearing her rare shade of Bali Brown lipstick, Duhamel strides through lovelorn streets like a Valkyrie, a straight-talking goddess, who takes on the teeming world and makes it her own."
—Barbara Hamby
"The discerning exuberance that has long defined Denise Duhamel's work is distressed in Blowout, but it is ultimately resilient. These poems traverse the distance between loss (the first poem is 'How Will It End') and praise (the last poem is 'Ode to Eyebrows') with the urgency of someone 'trying to remember the exact wording of [her] fortune.' Duhamel's poems continue shouldering difficult, disorderly subjects with remarkable imagination and candor. She remains one of the best poets writing today. Blowout is a devastating book."
—Terrance Hayes
"Blowout is a terrific book of poems, that delivers the pleasures of a good novel. Its protagonist is brave and resilient. She's observant and curious about the world no matter what happens to her. She's unsparing and hilarious. Whether wrenched by uncoupling, or catapulted back to childhood, or plummeting from fiscal cliffs, or shooting the rapids of postmodern romance, she is our hero. She never retreats, never turns bitter, gives everyone and everything (no matter how painful) its due, never losing eloquence or nerve. If I had a daughter old enough to read what a woman's life really is, the glory and the comedy and the hell of it, I'd give her this book."
—Amy Gerstler
Support Verse Daily
Sponsor Verse Daily!
Home Archives
Copyright © 2002-2013 Verse Daily All Rights Reserved