®

Today's poem is "3-Tiered Steamer"
from X Marks the Dress: A Registry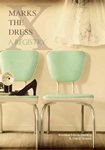 Kristina Marie Darling
is the author of eight books of poetry. Her work has been honored with fellowships from the Corporation of Yaddo, the Virginia Center for the Creative Arts, the Vermont Studio Center, the Santa Fe Art Institute, and Ragdale Foundation, as well as grants from the Kittredge Fund and the Elizabeth George Foundation. Kristina is currently working toward a Ph.D. in Poetics at S.U.N.Y.-Buffalo, where she holds a Presidential Fellowship.
Carol Guess is the author of eleven books of poetry and prose, including Tinerbox Lawn and Doll Studies: Forensics. She is Professor of English at Western Washington University, where she teaches Creative Writing and Queer Studies.
Other poems by Kristina Marie Darling & Carol Guess in Verse Daily:
March 4, 2012: "Aviary" "A cold moon rises over glittering cages & you fasten..."
Books by Kristina Marie Darling:

Books by Carol Guess:

Other poems on the web by Kristina Marie Darling:
"Notes on the Fin de Siècle"
"Notes to a History of Bird Keeping"
"Lorenz's Hypothesis"
Three poems
Two poems
Three poems
Three poems
Two poems
Three poems
Other poems on the web by Carol Guess:
Two poems
from "Departure Lounge"
Kristina Marie Darling's Website.
Carol Guess According to Wikipedia.
About X Marks the Dress: A Registry:
"X Marks the Dress: A Registry, Darling & Guess weave a narrative of love and identity that unpacks itself again and again. Like beautifully wrought Matryoshka dolls, these poems explore the depth and wonder of language as well as its inability to truly define any one thing. Lines and images reappear in new and surprising ways—footnotes, appendices, definitions—that stunningly illustrate exactly how slippery love can be."
—Erin Elizabeth Smith
"X Marks the Dress: A Registry by Kristina Marie Darling & Carol Guess presents the scintillating variables of time and its complex philosophical relationship with experiential space. These poems spark an incandescent fire of imagination in an enormous tonal range. Positioned on both sides of the mirror at once, watching reflections of ever-changing backgrounds of relationships and marriage. Like dreaming about having a dream this book cajole, beckon and posit in transcendent, expressive, and provocative words. Ultimately, the words never fill the void. Instead, they take us deeper and deeper down to a dark and disorienting place that continually excites the reader with its possibilities. This is an excellent work from two wonderful poets."
—Geoffrey Gatza
"In Kristina Marie Darling and Carol Guess's collaborative book, X Marks the Dress: A Registry, the reader receives a delicious catalog of wants. The cohabitation of idealized domestic bliss and the wild and unwilling spirit of individuality split the difference. The newlyweds divide the baby in half. The unspoken gets footnoted. The remnants get erased and placed in the appendices. In glorious sequences of riffs, flirtations, recombinations, and dances, Darling and Guess's collaboration intoxicates. Though the wedding china may get smashed against the trees, and though the stiletto heels may get broken, the moments in these lyrical vignettes will be long enshrined "on a red satin pillow."
—Oliver de la Paz
"These poems are arch, eyeing the cake. They undo us as we enter their rooms, our lace caught on the door knob, our mouths dripping generations of nameless desire. Each poem is a strand that keeps us tied to the marriage ritual, yet the reader is left diced up and served, simmered in pink, skeptical of the heart yet wanting to eat another's. 'I love you more because I love you both' is the song we dance to, the cadence that questions what a bond is, and between whom, and whether it is possible to love at all (when love is a mirror in a room of mirrors)."
—Emily Kendal Frey
Support Verse Daily
Sponsor Verse Daily!
Home Archives
Copyright © 2002-2013 Verse Daily All Rights Reserved