®

Today's poem is "Passing the Wildfire"
from Sheltering in Place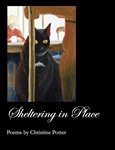 Christine Potter
is a writer and radio broadcaster who lives on a creek in suburban New York with her husband Ken, a church organist/choir director. She has also been a public school English/Creative Writing teacher, the moderator of poetry forum The Gazebo, a cook, and a ringer of church bells. She still misses her feline muse Mollycat Jones, but has adopted the feisty Bentley (a rescue Bengal mix) to keep Molly's brother Desmond company. Her radio show, Cocktails with Chris, can be heard Thursday afternoons on Area 24 Radio (http://area24radio.com).
Books by Christine Potter:

Other poems on the web by Christine Potter:
Four poems
Four poems
Two poems
"On Holy Saturday"
"Panthers, Coyotes"
"Tornado Warnings After Dinner With Your Family in Indiana"
Christine Potter's Website.
About Sheltering in Place:
"Sometimes I worry there won't be enough Chris Potter poems to see me through my life. Potter tracks the weather better than any poet I know. She knows how to find strength even under 'that lying sun' and the way she shares her map and forecasts I feel tended to, included. She recognizes shelter in things others don't recognize. All the while she runs away, I know she is going somewhere safe and I follow her, feeding on her wise and funny charm."
—Sherry O'Keefe
"These are poems of lucid memory, written to explore and evaluate it, cope with it, comprehend it, rage at it, and finally, sometimes, to explode it. Embedded in these memories is a catalogue of childhood fears, fears of the incomprehensible and of lies seemingly meant to cover up the incomprehensible, fears of the simultaneous desire to escape mortality and to remain. Christine Potter reflects on how we can make our peace with illness, catastrophe, and death, whether our own or that of others. This gives rise to questions as various as the possible answers to her father's demand to know, at 8 am on a Good Friday morning, whether she agrees that 'Easter is a celebration of a lynching.' Her black humor and irony are understated here, and Potter assesses the delight as well the toll it takes to seek out traditional virtues such as generosity of spirit, kindness, and the wisdom to go on."
—Terese Coe
"Christine Potter brings alive the ordinary world in lustrous scenes that keen the edge of perception. A spacious light and breath inhabits this writing and satisfying lusciousness. 'August/ is such a long marriage, summer so ripe/ and heavy that it falls in on itself: late, late, late.' Potter's brightly seen world is filled with emblems of our shared life, but there is a mystical penetration here as well: 'the last deep breath of the day that passed, then, suddenly, the moon.' We shelter in the honesty of these poems, their richness and truth, and above all, their wisdom."
—Rachel Dacus
Support Verse Daily
Sponsor Verse Daily!
Home Archives
Copyright © 2002-2013 Verse Daily All Rights Reserved