®

Today's poem is "Sand Fish"
from What Things Are Made Of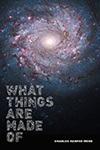 Charles Harper Webb
is the author of numerous poetry collections, including Reading the Water, Liver, Tulip Farms and Leper Colonies, Hot Popsicles, Amplified Dog, and Shadow Ball: New and Selected Poems. His poems have appeared in many journals and anthologies, including Best American Poetry, the Pushcart Prize, and Poets of the New Century. Webb has received the Morse Prize, Kate Tufts Discovery Award, Pollak Prize, and Saltman Prize, as well as a Whiting Writer's Award and a Guggenheim fellowship. He is professor of English at California State University, Long Beach, and teaches in the MFA in creative writing program there.
Other poems by Charles Harper Webb in Verse Daily:
August 9, 2010: "Puffer Fish" "When I snatch a fly out of the deepening dusk..."
October 24, 2009: "The Open-Air Recital Survived a Shaky Start" "when, in the first movement of the Emperor Concerto..."
July 2, 2006: "Biochemically Speaking, People Are Close Relatives of Soy" " Soy beans lack perky breasts, it's true...."
May 16, 2003: "I Never Promised You a Worm Farm" "When her psychology patients start her wishing..."
Books by Charles Harper Webb:

Other poems on the web by Charles Harper Webb:
"The Animals are Leaving"
"One-Armed Man"
"The Death of Santa Claus"
Two poems
"A Bad Way to Go"
"Weapon Salve"
Three poems
Five poems
Two poems
"What We Believe"
"Swimming Lesson"
"The Animals are Leaving"
"Foul Play"
Four poems
Seven poems
"To Make My Countrymen Love Poetry"
"The Animals are Leaving "
Charles Harper Webb according to Wikipedia.
About What Things Are Made Of:
"What Things Are Made Of is a delicious antidote to the solemnities, banalities, and absurdities of our culture, treated by Charles Harper Webb with hilarity and amiability. But lest you be tomfooled into thinking Webb is one of those poets who is all language and no heart, be warned—he also writes some of the best poems of love, sex, childhood, and mortality that we've got. I hope Webb enjoyed writing this book as much as I enjoyed reading it."
—Alicia Suskin Ostriker
"As in a madman's rickety invention, the silver ball of Charles Harper Webb's imagination rolls down Egyptian railroad tracks in locomotives powered by burning mummies, until its final moonwalk stage left to the end of nostalgia—where it puts a period to the modern age to which we're sentenced. It's a wild ride, and it's over too soon, but for just ten cents you can turn the page and start at the top again. Hilarious, kinetic, profound, Webb's poems are always a strange and fun adventure. So buy this book, plug in your dime, and get the ball rolling!"
—Tony Barnstone
"Flannery O'Connor said that the best comedy 'is always about matters of life and death,' a truth demonstrated masterfully in What Things Are Made Of. With his discerning wit, musician's ear, and big heart—plus a newly deepened tone of melancholy—Webb takes us on a seriocomic journey down the potholey road from youth to maturity in an age where 'truth shifts like ants on a Klondike [bar].' The melancholy is countered by the book's prevailing motif: love—schmaltz-free—of wife and son, of beleaguered humankind (most of it), of rock 'n' roll and fly fishing, of the 'big band' of a new day. If you're looking for a reader friendly work by one of America's best poets writing at his best, get out your wallet."
—William Trowbridge
"Crafted from a cynical romanticism that dreams with one eye open, Webb's What Things Are Made Of groans and growls out of the 'cracked crankcase' of his wildness. Dare, dear reader, to harness yourself to this bungee jump—anguished, masterful, and still deeply funny on the hundredth reading—that will dangle you over the precipice for an eyeful, an earful, and a polyphonic three-bone time."
—Roger Weingarten
Support Verse Daily
Sponsor Verse Daily!
Home Archives
Copyright © 2002-2013 Verse Daily All Rights Reserved