®

Today's poem is "Not an Omen"
from A Scripture of Crows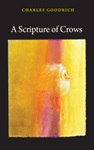 Charles Goodrich
is the author three volumes of poems—A Scripture of Crows (Silverfish Review Press, 2013), Going To Seed: Dispatches from The Garden (Silverfish Review Press, 2010) and Insects of South Corvallis (Cloudbank Books, 2003)—and a collection of essays about nature, parenting, and building his own house, The Practice of Home (Lyons Press, 2004). His poems and essays have appeared in Orion, The Sun, Open Spaces, Willow Springs, Zyzzyva and many other magazines. A number of his poems have been read by Garrison Keillor on his National Public Radio Program The Writer's Almanac.
Books by Charles Goodrich:

Other poems on the web by Charles Goodrich:
Three poems
Nine poems
Charles Goodrich's Website.
About A Scripture of Crows:
"Whether he is mourning the passing of a friend, channeling the ruminations of an honest old turkey vulture, or claiming kinship with the tick that hitches a ride on his socks, the poet will move and delight you. His poems draw us into a reality where mating dragonflies clack their wings 'like crazy little gods' and a nighttime camped in deep woods is filled with unidentifiable laughter. Charles Goodrich sings of transcendence and connection in a world where nature never stops sending us messages if only we can learn to read them."
—Barbara Drake
"Charles Goodrich here writes a manifesto for world change one compact epiphany at a time. Administrator of local discoveries, he names himself a "commonist," loyal to the local, to the democracy of creatures, to the light, keen blade of the language opening the envelope of our sleep. 'The blood you gave to mosquito,' he says, 'is what makes the bluebird / so blue.' 'Feeling as the maple tree / must feel,' he says, 'on the verge / of leafing out.' And reading, you are at eye-level with bud and dew, with seeds delving down, near joy despite the scheduled anguish of the modern world. These poems are a restorative in their deft humor and quiet promise. They will change your days, if not your life."
—Kim Stafford
Support Verse Daily
Sponsor Verse Daily!
Home Archives
Copyright © 2002-2013 Verse Daily All Rights Reserved