®

Today's poem is "Transfiguration between the Graves"
from In the Company of Spirits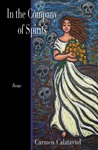 Carmen Calatayud
's poetry has appeared in journals such as Beltway Poetry Quarterly, Borderlands: Texas Poetry Review, Cutthroat: A Journal of the Arts, La Bloga and PALABRA: A Magazine of Chicano and Latino Literary Art. She is a Larry Neal Poetry Award winner, a runner-up for the Walt Whitman Award and recipient of a Virginia Center for the Creative Arts fellowship. Carmen is a poet moderator for Poets Responding to SB 1070, a Facebook group that features poetry and news about Arizona's immigration law that legalizes racial profiling. Born to a Spanish father and Irish mother in the U.S., Carmen works and writes in Washington, D.C.
Books by Carmen Calatayud:

Other poems on the web by Carmen Calatayud:
Three poems
Four poems
Carmen Calatayud's Blog.
Carmen Calatayud's Website.
Carmen Calatayud According to Wikipedia.
Carmen Calatayud on Twitter.
About In the Company of Spirits:
"Archangel Michael sticks his finger down my throat/and now I have to tell your story." writes Carmen Calatayud, in a collection that slips admirably into one of American poetry's most noble strands—a poetry of testimonio where the poet uses her gift to weave narratives rooted in a plethora of myths, at once familial, social, and political. These stories are borne from the body and often interwoven with an undercurrent of unrest or unease, even violence, as would be the case if one had a finger jammed down one's throat. The gaze in these poems is unflinching, as well as drenched with imagination. In the Company of Spirits will indeed enrich the ever-expanding mosaic of Latino/a poetry."
—Francisco Aragón
"The poems in In the Company of Spirits journey to the borderlands– between nations, languages, people, the living and dead – sending back essential dispatches on what is found there: war and violence but also richness and beauty, redemption and hope. Carmen Calatayud is our expert guide, leading us to that ultimate geographic border where we wrestle the angels of our lesser selves – our fears, our urges toward destruction – until we are reborn. Gorgeous, hurting, heartbreaking: these are the poems I'll take on my own journey toward truth."
—Sarah Browning
"Carmen Calatayud's courageous poems not only sing, but talk straight from the heart about love and death, the everyday as well as the inexplicable. These poems accomplish that rare feat of weaving a spell from the first to last page that causes everything else to fall away..."
—Devreaux Baker
"Whether encompassing the political or the personal, the spiritual or the everyday, Carmen Calatayud writes with a raw and painful frankness, a sense of magical and lyrical wisdom, and a razor's edge of rage. In the Company of Spirits is a collection to be devoured on the first read, savored on the second, and taken deep into the heart on the third, the fourth, and beyond."
—Naomi Benaron
"Carmen Calatayud's poems are 'love stories from the ruins.' Unflinching and brave, her language winds through the wreckage of war zones and borderlands, but it also pauses to praise and to question the human heart. This inward and outward gaze, a blurring of the personal and the political, allows Calatayud to explore a larger lyrical space, to sing and to cry beneath 'black moons' and a 'pomegranate sun.' Beautifully crafted and beautifully humane, brimming with "blood that blesses us all," these poems survey the music and the decay around us."
—Eduardo C. Corral
Support Verse Daily
Sponsor Verse Daily!
Home Archives
Copyright © 2002-2013 Verse Daily All Rights Reserved