®

Today's poem is "Museum"
from Humbug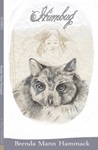 Brenda Mann Hammack
is an Associate Professor of English at Fayetteville State University where she teaches seminars in creative writing, children's literature, and nineteenth-century British literature. She serves as Managing Editor for Glint Literary Journal and teaches an online workshop on "The True Fairy Tale Poem" for the Rooster Moans Poetry Cooperative. Her scholarly work focuses on the socio-medical theories that influenced Florence Marryat's 1897 novel The Blood of the Vampire as well as the occult fictions of Algernon Blackwood, Arthur Machen, Joseph Sheridan Le Fanu, and Robert Louis Stevenson. Three of her poems have received Pushcart nominations.
Books by Brenda Mann Hammack:

Other poems on the web by Brenda Mann Hammack:
"Skinflower"
Three poems
"Little Hermit Sphinx"
About Humbug:
"The Humbug-what is it? A delightful creature? A misshapen mash-up leading to odd adventure? A Dickensian mis-imagining? Brenda Hammack has created in Humbug a macabre, oddly charming and disturbingly odd story. Something between a novella in verse and a poem with prose interludes. The humbug and his human companion Victorine escape from a house of small horrors created by a mage of sorts and his female counterpart, a medium with migraine and multiple bottled still-born babes. The medium is also Victorine's mother, at least in name. As a hob and gargoyles come to life and inhabit a neo-Victorian world that appears to be part Dickens, part Lewis Carroll, with generous dashes of Beardsley and Belloc, the verse weaves and dodges from brilliant rhymes toward couplets, free verse, and then prose, creating a metrical tour de force that will engage the skeptical even in the face of Ouija boards, mesmerism, and mediums. A must-read for neo-Victorians, steampunk lovers, and connoisseurs of the occult who have a sense of humor."
—Mary Ellis Gibson
Support Verse Daily
Sponsor Verse Daily!
Home Archives
Copyright © 2002-2013 Verse Daily All Rights Reserved