®

Today's poem is "The Promise We Made to the Earthquake"
from Meeting the Tormentors in Safeway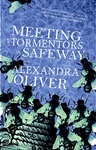 Alexandra Oliver
holds an M.A. in Drama/Cinema Studies from the University of Toronto and an M.F.A. in Creative Writing from Stonecoast. Since emerging onto the Vancouver poetry scene in 1992 and being named the following year as one of the Top Ten Young Artists of the year by The Vancouver Sun, she has gone on to receive two Pushcart Prize nominations, as well as a CBC Literary Award nomination. She has performed her work at places as diverse as Lollapalooza, The National Poetry Slam, the CBC Radio National Poetry Face-Off, the Bowery Poetry Club in New York, the Spectacular Obsessions Fellini Retrospective at the Bell TIFF Lightbox and the Italian Contemporary Film Festival in Toronto. Her work has appeared in numerous journals and publications worldwide, including Orbis Rhyme International, Nexus, The Atlanta Review, The New Guard, Light Quarterly, Future Cycle Poetry, The Raintown Review, and The Vancouver Sun, as well as About.Com's Poems After The Attack anthology, a collection discussing and reflecting upon the aftermath of 9/11. Her first book, Where the English Housewife Shines (Tin Press, London, UK) was released in April, 2007.She is also co-editing (with Annie Finch) an anthology of metrical poetry. Oliver has taught poetry and led workshops in high schools, colleges, libraries, cultural organizations and prisons, and was one of the Directors of the Edgewise Electrolit Centre, an organization created to promote Canadian poetry and new poets through the use of new media. Her interests include form, ekphrasis, translation, performance, and creating poetry syllabi for ESL speakers, seniors, victims of violence, and at-risk youth. Alexandra divides her time between Toronto, Canada, and Glasgow, Scotland, where she teaches poetry through the Govan and Craigton Integration Network and acts as a Staff Writer for the Glasgow Film Theatre.
Books by Alexandra Oliver:

Other poems on the web by Alexandra Oliver:
Three poems
Twelve poems
Alexandra Oliver's Website.
Alexandra Oliver on Twitter.
About Meeting the Tormentors in Safeway:
"Alexandra Oliver has many arrows in her quiver—all of them sharpened to a fine point. In satirical work like "The Classics Lesson," she is mordantly funny. Yet she can also treat her subjects quietly and with touching understatement, as in "Chinese Food with Gavra, Aged Three." Ms. Oliver is, moreover, technically resourceful in the best sense. For example, in "Doug Hill" the verbal repetitions of the pantoum form perfectly suit the obsessive voice of the romantically disappointed protagonist. This is an excellent and entertaining collection."
—Timothy Steele
"It is sometimes argued that our disjunctive times need to be mirrored by disjunctive forms: only aesthetic disorder can respond to our experience. Such a simplicity is disproven by Alexandra Oliver's Meeting the Tormentors in Safeway, in which disjunctions of many kinds (such as the one in her title) are brought to order by the poet's refining passion and corrosive wit. Here are brilliantly contemporary poems in traditional forms, the work of a stunning new voice."
—Charles Martin
"Alexandra Oliver is in full command of a saber wit and impeccable ear. With these she tackles nothing less than the unsettling hazards, absurd encounters, and oddball ironies of our modern predicament to make poems that bite and entertain. That they are also by turns tender, sad, and rueful speaks not only to her range but to the underlying intensity of feeling. For Oliver's considerable formal skills are always employed to prod and direct poetry's energies to keep pace with the contemporary world. Lucky the reader along for the ride."
—Jeanne Marie Beaumont
Support Verse Daily
Sponsor Verse Daily!
Home Archives
Copyright © 2002-2013 Verse Daily All Rights Reserved