®

Today's poem is "The Mortgaging of Self Is Done"
from The Green-go Turn of Telling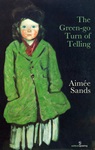 Aimée Sands
' poems have appeared in FIELD, Poet Lore, Measure, Salamander, Lyric Poetry Review, Beloit Poetry Journal, Poetry Ireland, and elsewhere. Her work also appears in Dogs Singing:?A?Tribute Anthology (Salmon, 2010). She is the co-director of the well-regarded Brookline Poetry Series, a Boston-area venue founded in 2001. The Green-go Turn of Telling is her first book. Aimée is also an independent filmmaker. Her documentary short What Makes Me White? is in use as a tool for anti-racism work in over two-hundred colleges, churches, and non-profits in the US and Canada. She is currently expanding the film under a grant from the W.K. Kellogg Foundation. In her twenty-plus years as a public radio and television producer, Aimée has received eighteen awards for her work, including an Emmy and a Peabody Award. She teaches at Babson College.
Other poems by Aimée Sands in Verse Daily:
June 25, 2006: "The Mortgaging of Self Is Done" " And the floors dreaming in wide..."
Books by Aimée Sands:

About The Green-go Turn of Telling:
"The elegant wedding of fresh intellect and lyric bravado distinguish Aimée Sands' new poems from much of our recent American poetry. Here is all of the heartbreak and gravity of being human stripped of everything but its essential, luminous core of knowing. We can relish in the way that in poem after poem the poet finds language that is restorative in the face of the crises she evokes. This regard for words said right – that they may save you – is what drives this life, and therefore these poems, and they are lit with all of the advantages of poems that have been cared for and worried over and made as right as they can be, no small accomplishment, for which I for one am grateful."
—Bruce Weigl
"Aimée Sands' first collection is the work of a mature poet who has refined her craft in the course of years. The complex emotions of childhood versus the seductiveness and terror of the adult sphere with its secret shame and guilt are not so much explored as re-enacted here in language that is both figurative and precise, but also hauntingly oblique and mysterious. Despite her realization that there is little shelter and the edifices we construct do not shield us from our own fears, Sands manages to wrest words from the darkness that illuminate and console, lighting the way to a place where "the pelt of suffering" can be stripped off, where a door will open to receive the self on its tentative search for home."
—Eva Bourke
Support Verse Daily
Sponsor Verse Daily!
Home Archives
Copyright © 2002-2013 Verse Daily All Rights Reserved