®

Today's poem is "Our Song"
from Ruining the New Road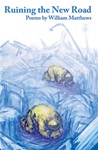 William Matthews
was born in Cincinnati in 1942. He studied at Yale and the University of North Carolina at Chapel Hill where, with two friends, he founded Lillabulero Press and its poetry magazine, Lillabulero. During his lifetime he published eleven books of poetry, including Tine &Money (1996), which won the National Book Critics Circle Award; Selected Poems and Translations 1969-1991 (1992); Blues If You Want (1989); A Happy Childhood (1984) ; Rising and Falling (1979) ; Sticks and Stones (1975) and Ruining the New Road (1970). Collections published posthumously include Search Party: Collected Poems, edited by his son Sebastian Matthews and Stanley Plumly (2004), After All: Last Poems (1998), and New Hope for the Dead (2010). He was also the author of a book of essays entitled Curiosities (1989).
Other poems on the web by William Matthews:
Forty-five poems
Two poems
Rising and Falling
Five poems
"Loyal"
William Matthews According to Wikipedia.
About Ruining the New Road:
"Careening between the bleak and utterly buoyant, the poems in Ruining the New Road offer a startling open-mouthed, and openhearted honesty that is rare and exhilarating. Fierce in its recognition of both beauty and the painful, yet tender truths of the universe, these poems remind us that Matthews is a genuine master at laying bare the complicated spectrum of the human condition. Here is a book where, as Matthews says, 'Everywhere life is ludicrous/ but absolutely crucial.'"
—Ada Limón
"For a first book of poems to be honest is rare enough: for one to concern itself with honesty, with the evasion of fancy and the lives of our excitements is even more so, and I feel thankful for this book. These narrowed poems, almost epigrammatic, but ultimately meditative, reflect the sorts of confrontation, such as with mirrors, that will matter in the end."
—John Hollander
"William Matthews writes of the post-Wasteland world, familiar to many young people today but not always to their elders. Like all worlds, it is a state of consciousness, but with a difference. Work and love take the place of extremes of hope and despair; emotion and thought devoted to life as lived in the present take the place of blind worship of the past and blind fear of the future. If work and love can balance the ecology of our planet (both geographic and poetic), William Matthews will deserve our thanks. Like Gary Snyder and Wendell Berry, he knows that the poetry is in the ecology. Matthews, as I believe we shall soon see, is a man of their stature. I believe that he is the best young poet in American."
—Stephen Mooney
Support Verse Daily
Sponsor Verse Daily!
Home Archives
Copyright © 2002-2012 Verse Daily All Rights Reserved