®

Today's poem is "The Hippie Church I was Raised in Doesn't Believe in Sin"
from Good Grief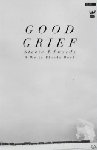 Stevie Edwards
currently resides in Ithaca, NY, where she is working toward completing an MFA in creative writing at Cornell University. She is the editor-in-chief of MUZZLE Magazine, editor of 4th & Verse Books, assistant editor of EPOCH, and a proud alumna of Chicago's Real Talk Avenue. Her work has appeared in several literary journals, including Rattle, Thieves Jargon, Union Station, Night Train, PANK, Word Riot, and decomP.
Books by Stevie Edwards:

Other poems on the web by Stevie Edwards:
Six poems
Two poems
Two poems
Three poems
Four poems
Three poems
"I Want to Tell You:"
Stevie Edwards's Website.
Stevie Edwards on Twitter.
About Good Grief:
"Stevie Edwards tells the truth in a music made for poetry. Good Grief, a title I keep envying, is a thrilling debut of voice-driven poems from a poet wracked by her vision of the world as it is in all its lowly grit and open air. This is the strange comfort of loneliness at its highest, finest lyric moment."
—Jericho Brown
"Stevie Edwards speaks unflinchingly — she faces love, desire, grief, loneliness, family, the world, without ever turning away, in a voice thatís vulnerable and raw, piercing and honest, crafted and bold. These poems open with seeming simplicity, twist gracefully, and then leave us lyrically breathless."
—Helena Mesa
"The collection Stevie Edwards presents here is the soundtrack to a young woman discovering her ability to be human, to be equal parts fucked up and beautiful. This youth, however, exists merely in the subjects she tackles, never in lyricism. Truly, Edwards writes with a mastery way beyond her years. It's almost irritating how good she is."
—J.W. Basilo
"When you read Stevie Edwards' words, every organ in your body will feel like it is shutting down. The lungs are forgetting their purpose, the liver is shriveling up and each finger is crippling unto each other as she insists 'save a little rum in your belly to unwolf into new mud.' Edwards is taking all the oxygen with these poems...and it hurts so good."
—Mahogany L. Browne
Support Verse Daily
Sponsor Verse Daily!
Home Archives
Copyright © 2002-2012 Verse Daily All Rights Reserved