®

Today's poem is "I hear the dinner plates gossip"
from Clangings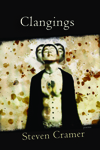 Steven Cramer
is the author of four previous poetry collections: The Eye that Desires to Look Upward (1987), The World Book (1992), Dialogue for the Left and Right Hand (1997), and Goodbye to the Orchard (Sarabande, 2004), which won the 2005 Sheila Motton Prize from the New England Poetry Club and was a 2005 Honor Book in Poetry by the Massachusetts Center for the Book. His poems and criticism have appeared in numerous literary journals and anthologies, including The Atlantic Monthly, FIELD, The Nation, The New Republic, The Paris Review, Poetry, and Triquarterly; as well as in the first and second edition of The Autumn House Anthology of Contemporary American Poetry; Living in Storms: Contemporary Poetry and the Moods of Manic-Depression; and The POETRY Anthology, 1912- 2002. Recipient of fellowships from the Massachusetts Artists Foundation and the National Endowment for the Arts, he currently directs the Low-Residency MFA Program in Creative Writing at Lesley University in Cambridge, which was named by Poets and Writers as one of the top ten low-residency MFA programs in the country.
Other poems by Steven Cramer in Verse Daily:
August 30, 2012: "from Clangings" "Dear eyes, my ears kept paired for you..."
February 21, 2012: "from 'Clangings'" "Okay, here's what we did. Dad was a quark...."
April 20, 2011: "from Clangings" "So I left my apartment, got down where..."
June 18, 2007: "Memo from Homeland Security" " Mourning doves and lovebirds..."
February 11, 2007: "Children" "We pray they'll bury us, naturally...."
Books by Steven Cramer:

Other poems on the web by Steven Cramer:
Five poems
from 'Clangings'
Seven poems
Four poems
"Sewage Has Its Say"
"Maurice"
Three poems
"Progressive"
"Villanelle After a Burial"
"July (From Humidity Diary)"
"Everyone Who Left Us"
Steven Cramer's Website.
Steven Cramer According to Wikipedia.
About Clangings:
"Clangings' are specialized modes of speech schizophrenics and manics use to express themselves, and identify themselves, and communicate, so desperately and wittily and forlornly and with such resourceful energy. That's wonderfully registered here. But one gets to feel, reading it, that these diagnostically defined ways of using language are only extreme cases of how we all use language. Steven Cramer handles and contends with and profits from that extremely difficult, intensely compressed, stanzaic form, over and over, inventive all the way, hilarious a lot of the time, and scared, scary, distanced and objective, and very moving. Clangings is a wild ride."
—David Ferry
"Humane from its aching heart to its flummoxed nether regions, whipsmart, formally acute but unfussy, and entertaining as all hell—Steven Cramer's new book shreds our airwaves with an inventiveness that is rare. Rare, as in once-in-a-lifetime-if-you're-lucky rare. It balances perfectly on the knife-edge of improvisation and necessity. Clangings is magnificent."
—David Rivard
"Steven Cramer's Clangings is a poetry not of madness, nor even the merely unspeakable, but instead irresistibly musical musings that reveal a command of language only achievable through fierce intelligence and the most piercing wit. A brilliant revision of the clinical term that describes speech that sacrifices sense to sound, here one finds that sound itself—'Two rhymes snagged between rhymes,/ spun puns, all my blinds up in flames./ The voices in noise are getting wise,' as Cramer writes, indelibly—is indeed sense. Poetry is healing here, the astonishing process itself laid out on these pages in all its utterly humane glory."
—Rafael Campo
"Steven Cramer's Clangings may well be the most disturbing book of verse ever written! Binding the warp of psychotic blurts into a poetic weft is one way to make all of language unbearably strange. But the poems here disturb and illuminate—that's the magic."
—Jean McGarry
Support Verse Daily
Sponsor Verse Daily!
Home Archives
Copyright © 2002-2012 Verse Daily All Rights Reserved