®

Today's poem is "The Road to Baghdad"
from Mormon Boy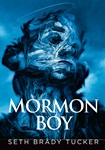 Seth Brady Tucker
holds degrees from San Francisco State University, Northern Arizona University, and Florida State University. Seth has been a scholar at the Bread Loaf Writer's Conference, a collegiate basketball player, and a paratrooper with the U.S. Army's 82nd Airborne Division. He has been nominated for a number of awards, including the Pushcart Prize, and his poetry and fiction is forthcoming or has appeared in the Connecticut Review, Antioch Review, Indiana Review, Rosebud, North American Review, Witness, Rhino, Southern Poetry Review, Crab Orchard Review, among many other journals and anthologies. He lives, writes, and teaches near Boulder, Colorado, with his wife and two dogs.
Books by Seth Brady Tucker:

Other poems on the web by Seth Brady Tucker:
"Falling in Love During Wartime"
Seth Brady Tucker on Twitter.
About Mormon Boy:
"A young man goes to a desert war, somehow returns with body and mind intact, and begins to write poems about his experiences. Will they be raw, brutal, all but impossible to read? Actually, no. Seth Tucker looks into the abyss, but it's a 'pretty abyss,' as one of these poems says, because life rendered with feeling is always beautiful. Tucker embraces his subject but transcends it; a pleasure to read, these poems show poets how great poems are written."
—David Kirby
"Can eyeballing Steve Martin kill a person? Is the baptismal font really for drowning little boys who just don't cut it? Is the trapdoor spider important? Can a woman's great ass save us? These deeply weird, dark, at-times-hilarious, war-torn poems, like a mule ride, are: 'unpredictable, exhilarating, uncomfortable, and silly' (I admit it--I giggled). And yet. When Kafka said: 'A book must be an ice-axe to break the seas frozen inside our soul,' he had Seth Tucker's Mormon Boy in mind--for with electrified language, grit and pathos this stunning debut collection commands love of raw humanity, unhinged from superstition."
—Jane Springer
"Seth Tucker takes you on a trip to the outer limits of our time--to Baghdad and back again, and what he sees will leave you stunned but amazed that a human being could be so resilient, so passionate, and so open to the beauty and terror of the world. Here is a true Romantic--as if Keats and Byron had ironed out their differences and decided to take off for parts unknown. This book is an avalanche of images--tender, terrifying, and and rich as the the landscapes they describe."
—Barbara Hamby
Support Verse Daily
Sponsor Verse Daily!
Home Archives
Copyright © 2002-2012 Verse Daily All Rights Reserved