®

Today's poem is "Larry Levis in Provincetown"
from A Map of the Lost World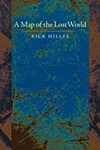 Rick Hilles
is assistant professor of English at Vanderbilt University and is the author of the poetry collection Brother Salvage, winner of the Agnes Lynch Starrett Poetry Prize. He has been the Amy Lowell Poetry Traveling Scholar, a Wallace Stegner Fellow at Stanford University, and a Ruth and Jay C. Halls Fellow at the University of Wisconsin–Madison. Hilles is the recipient of a Whiting Writers' Award and the Larry Levis Editor's Prize in Poetry from the Missouri Review. He and his wife, the fiction writer Nancy Reisman, live in Nashville.
Other poems by Rick Hilles in Verse Daily:
Books by Rick Hilles:

Other poems on the web by Rick Hilles:
"From Three Words of a Magnetic Poetry Set Found Caked in Dirt Beneath James Merrill's Last Refrigerator"
Five poems
Two poems
Rick Hilles According to Wikipedia.
About A Map of the Lost World:
"Always a poet of authentic promise, with A Map of the Lost World Rick Hilles emerges into an importance that may rival such poets as Henri Cole and Rosanna Warren. I find it immensely moving that he evokes dead poets for whom I cared personally as well as critically, including James Wright and James Merrill. Beyond that he adds what may be a new dimension to our poetry by evoking the shade of Walter Benjamin and with it the tragedy of European Jewry. I emerge from this book somber yet fortified because like Kafka it reminds us of a kind of indestructibility of the human spirit."
—Harold Bloom
"When John Keats described negative capability he could have added that it included the ability to enter and inhabit the lives of others. This form of empathy, usually the gift of the dramatist and the novelist, reveals itself throughout Rick Hilles's poetry, and especially in A Map of the Lost World. Whether he speaks as or about one of the poets he admires, older friends who have survived the Holocaust, strangers met in a city, acquaintances hunting mushrooms near Auschwitz, or a German member of the French Resistance, he convinces us that he knows what it is to be these people. Seamlessly, with a sense of nuance and subtlety that are all his own, he re-creates their lives as though he might have lived them."
—Mark Jarman
"A Map of the Lost World is an important book, combining history with lyric gravity. Rick Hilles writes of modern life in language that is beautiful and magical, having an intensity that compels as it startles. In poems of World War II ("A Map of The Lost World" and "The Red Scarf & The Black Briefcase"), we read of an American's search for self as well as for the fate of Auschwitz prisoners. By turns Hilles thrills, excites, intrigues, and terrifies, as he finds in the past insights into the world around him and presents a landscape 'full of secrets only some of them benign.'"
—Grace Schulman
"Like John Keats, who is in many ways the presiding spirit of this exquisitely true and beautiful gathering of poems, Rick Hilles is a poet with genuine authority, licensed to lead us to the lost world where great poets, dear friends and righteous survivors pay tribute to what it means to be human, to love and bear witness even beyond death. This is a truly wonderful book."
—Lorna Goodison
Support Verse Daily
Sponsor Verse Daily!
Home Archives
Copyright © 2002-2012 Verse Daily All Rights Reserved